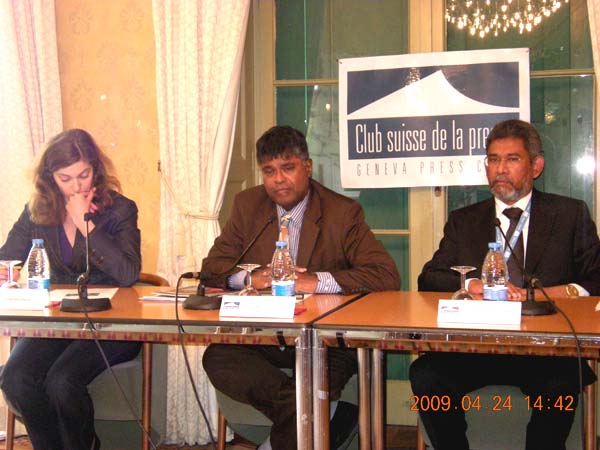 The Permanent Mission of Sri Lanka to the United Nations Office in Geneva, in collaboration with the Geneva Press Club - Club suisse de la presse –, organised a press conference on the topic 'Current Situation in Sri Lanka', today (24 April 2009) at 'la pastorale,' Geneva.


Prof. Rajiva Wijesinha, Secretary to the Ministry of Human Rights and Disaster Management and Secretary General, Secretariat for Coordinating the Peace Process, and Dr. Dayan Jayatilleka, Ambassador/Permanent Representative of Sri Lanka to the United Nations Office in Geneva were the two main speakers at this press meeting attended by foreign and Sri Lankan journalists.


During the meeting, the two speakers explained the background to the on-going war in Sri Lanka and evoked some of the major incidents occurred during the past 3 decades. Dr. Jayatilleka and Prof. Wijesinha also responded to a number of questions raised by the journalists on the present situation in the north, and especially on the civilians: both those who are still held by the Tigers and those who have managed to escape and come to the government controlled area seeking the refuge of the armed forces.