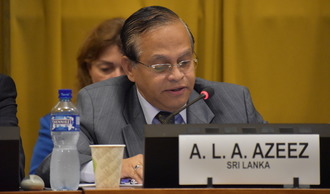 Addressing a panel discussion at the Conference on Disarmament (CD) in Geneva, Ambassador A.L.A. Azeez stressed the need for making determined efforts towards achieving concrete progress in nuclear disarmament through the preservation of existing disarmament architecture; and substantive negotiation and finalization of instruments on CD's agenda items, through fast-tracking the adoption of a Programme of Work.
Ambassador Azeez drew attention to the need for taking other important measures including completing the universalization of the Comprehensive Nuclear Test Ban Treaty, noting its significant contribution to advancement of science and technology, lying at the inter-section between nuclear non-proliferation and nuclear disarmament. Deploring the continuing impasse in nuclear disarmament, he stressed that it was striking "the issue has coursed through the vortex of international public concern with little changes in its tide, for decades."
He highlighted the importance of disarmament education and full integration of a gender perspective as imperative to ensure "a fully informed, well-represented, result-oriented negotiation on critical issues.
The following article published on InDepthNews highlights the viewpoints expressed by Ambassador Azeez at the panel discussion:
https://www.indepthnews.net/index.php/opinion/2875-nuclear-disarmament-through-the-vortex-of-global-concern
Full Statement by Ambassador Azeez
Permanent Mission of Sri Lanka
Geneva
5th August 2019