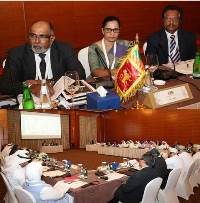 Abu Dhabi Dialogue (ADD) chaired by Sri Lanka met in Dubai for a two day Special Workshop from 4-5 July 2017 at senior officials and experts level representing the member Governments of the ADD and including observers from civil society, the private sector, and international organizations. The main objective of the workshop was to operationalize the four (04) collaborative tracks that were approved by the ADD Ministers at the Inter-Ministerial Consultation in Colombo in January this year, namely, alternative model for labour recruitment, certification of skills and recognition, comprehensive information management and Technology in the Governance of Labour Mobility. The outcome will be shared with the ongoing UN Global Compact for Safe, Orderly and Regular Migration as ADD best practices in consultation with the ADD Members States.
ADD represents one of the largest regional migration corridors.
Please see the full report on the workshop proceedings.
26th July 2017
Permanent Mission of Sri Lanka
Geneva