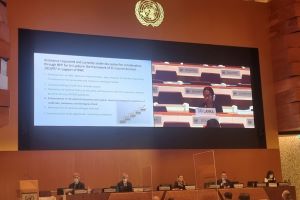 Intervention made during MX 3 - Strengthening National Implementation
Mr Chair,
Let me extend our warm congratulations on your assumption of duties as the chairperson, MX3 and hard work throughout.
Sri Lanka supports the BWC and very much in line with implementation process. We will further discuss implementation in Sri Lanka through preparedness and response at the proceedings of MX4
I would like to congratulate Japan and US for the interesting working papers and comprehensive methodology applied for training and information sharing.
I would like to appreciate your consideration of prerecorded video materials as a tool of training. I would like to emphasize that short, simplified audiovisual materials are of high demand as a training tool and as convenient tool, not only as prerecorded videos but also as infographics and in any other novel method.
I would like to further draw your attention to develop such audiovisual material, especially for the frequently asked questions/main topics for training/best practices, giving quick insight to the topic or as a consolidated summary and made freely available in relevant digital platforms for quick reference at any time.
Multi sectoral stakeholders beyond scientists, are involved within the framework of BWC action. Therefore, simplified, short duration, user friendly audiovisual training materials, available and accessible will be instrumental for quick reference as and when required for their work.
Thank you


PPT Presentation made during MX4 – Assistance, Response and Preparedness National implementation of BWC in Sri Lanka through Preparedness and Response