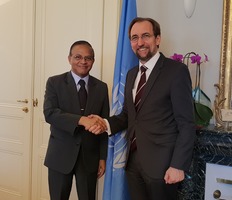 As part of a series of meetings that Ambassador A.L.A Azeez, Sri Lanka's Permanent Representative, had with Heads of UN and other agencies in Geneva, he called on H.E. Zeid Ra'ad Al-Hussein, United Nations High Commissioner for Human Rights on 18 May 2018. Having warmly received Sri Lanka's Permanent Representative, High Commissioner Zeid Ra'ad Al-Hussein conveyed to Ambassador Azeez his best wishes for the new assignment while appreciating the Government of Sri Lanka for the continuing cooperative engagement with his Office and the Council.
Ambassador Azeez elaborated the various measures taken by the Government of Sri Lanka, especially since 2015, to improve and advance human rights, highlighting areas in which further work was continuing and progress was being made. High Commissioner shared his perspectives on matters of priority interest to both sides and specifically noted the positive contribution of technical assistance in areas on which Sri Lanka required capacity building and other forms of support.
Peacebuilding and reconciliation, protection and promotion of human rights, rule of law and other concerns including developments in the wider region were among the matters discussed.
Permanent Mission of Sri Lanka
Geneva
30 May 2018