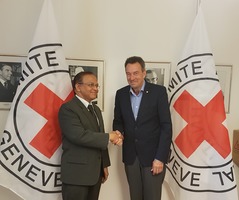 The Permanent Representative of Sri Lanka to the United Nations in Geneva met with President of the ICRC Mr. Peter Maurer at the ICRC Headquarters today. Referring to various measures taken by the Government of Sri Lanka to address humanitarian aspects involved in peacebuilding and reconciliation, Mr. Maurer noted the recent progress achieved in establishing and operationalizing the Office of Missing Persons (OMP).
Ambassador Azeez conveyed the appreciation of the Government of Sri Lanka for technical assistance provided by the ICRC particularly at the preparatory stages of work relating to draft policy and legal framework and structure of OMP.
Mr. Peter Maurer commended Sri Lanka for becoming a State party to the Anti-Personnel Mine Ban Convention (Ottawa Treaty) and the Convention on Cluster Munitions (Oslo Treaty), which he noted "sent a positive signal regarding the range of commitments that Sri Lanka has undertaken in humanitarian disarmament".
Ambassador Azeez said Sri Lanka looked forward to further cooperation with the ICRC on technical expertise and capacity building in areas of shared priority.
Permanent Mission of Sri Lanka
Geneva
23 May 2018