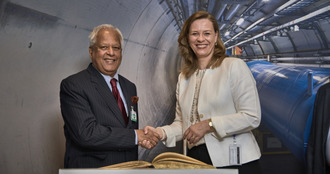 "The ongoing Sri Lanka-CERN cooperation could be further enhanced by involving other technical universities including in the engineering and information technology fields in the coming years", said Minister of Science, Technology and Research, Skills Development and Vocational Training and Kandyan Heritage Dr. Sarath Amunugama at a discussion held with Ms. Charlotte Warakaulle, Director for International Relations, European Organization for Nuclear Research (CERN) in Geneva, during his visit to the CERN on 15 May 2018. Sri Lanka – CERN partnership has recorded considerable increase in the participation of doctoral candidates and physicists in critical particle physics experiments of CERN.
While commending CERN for enhanced cooperation with Sri Lanka during the past few years, the Minister emphasized the importance of the involvement of undergraduates, PhD candidates as well as scientists in CERN experiments. Ms. Warakaulle stated that such exposures would provide an important opportunity to bring back to Sri Lanka not only the much needed knowledge on particle physics but also useful insights in the latest advancements in high technology. Access to data generated in the experiments, would be extremely useful for universities to broaden their research capacities as well as for potential use in industries, she stressed.
It was agreed that collaboration would continue in the form of training for Sri Lankan physicists and students in CERN experiments as well as in various other CERN programmes such as the prestigious 'Summer Student Programme', paving the way for building the critical mass of scientific expertise in Sri Lanka in the field of high energy particle physics.
Formal cooperation between Sri Lanka and CERN was initiated by the Permanent Mission of Sri Lanka in Geneva on 25 June 2015, following the signing of an 'Expression of Interest' (EOI) Agreement. The relationship has been further strengthened pursuant to the signing of an 'International Cooperation Agreement', in February 2017. Sri Lanka became a full member of Compact Muon Solenoid (CMS) collaboration in November 2017 paving the way for participation in CMS experiments as a consortium of Universities of Colombo and Ruhuna, led by a team of 4 Sri Lankan physicists and 4 doctoral students.
As part of Sri Lanka's cooperation with CERN, for the third consecutive time, 4 undergraduate students representing universities of Colombo, Ruhuna, Jayawardenapura and Jaffna were selected to participate in the 8 week intense programme in Summer 2018. Last year, 4 Sri Lankan undergraduates successfully completed this programme. Further, Sri Lanka is scheduled to host the 2nd South Asian High Energy Instrumentation Workshop in February 2019 in Colombo.
During the visit to CERN, Minister Amunugama was also briefed by Dr. Archana Sharma, Senior Particle Physicist in CMS experiments as well as by other senior scientists on the key experiments being conducted at CERN.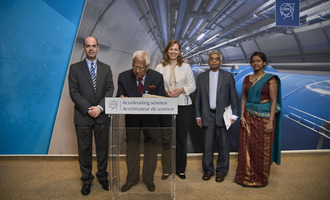 Chairperson of the National Institute of Fundamental Studies of Sri Lanka Prof. V. Kumar and Minister Counsellor of the Permanent Mission of Sri Lanka Ms. Shashika Somaratne were associated with Minister Amunugama in the discussions, while the Head of Associate Member and Non-Member State Relations of CERN Prof. Emmanuel Tsesmelis was associated with Ms. Warakaulle.
Sri Lankan team of scientists and PhD candidates - Dr. K. Jayananda, Senior Lecturer, Department of Physics, University of Colombo, Ms. Kalpanie Liyanage, Mr. N. Perera and Mr. B. Kailasabapathy were present along with the team of CERN scientists during the visit to the facilities.

Permanent Mission of Sri Lanka

Geneva

22 May 2018