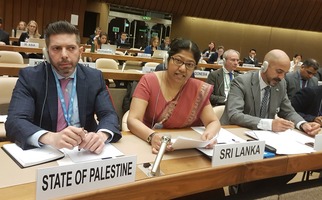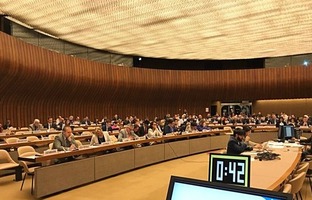 As we pursue Sustainable Development targets with an objective to 'leave no one behind by 2030', it is becoming apparent that the kind of impact technology and AI can make in realising the 17 SDG's and its 169 targets, the CDA a.i. of the Permanent Mission of Sri Lanka to UN, Mrs. Samantha Jayasuriya said addressing the Meeting of the Group of Governmental Experts (GCE) on Emerging Technologies in the areas of Lethal Autonomous Weapon Systems (LAWS) held in Geneva on 9th April 2018. The use of AI to automate UNDP's Rapid Integrated Assessment (RIA) systems, which helps in determining a country's readiness for implementation of the Global Development Agenda, and in building interlinkages among national and sectoral policies is clearly, among one of the many positive narratives of the peaceful application of AI, she noted.
Highlighting that there are several challenges before the GGE, Sri Lanka stated that a careful study of different definitions available so far, and an objective consideration of the language used in different national defence doctrines could serve as the first step in finding a 'working definition' for LAWS. The degree to which AI has already been built into military weapons systems and the accepted degree of autonomy related to the critical functions of these weapons, the 'predictability' of their functions and the 'reliability' of its operations under changing conditions during a conflict is another challenge. Also, the difficulty of the 'attribution of accountability' is getting blur with the use of AI in military weapons systems. Nevertheless, the test of public conscience and laws of humanity as referred to in the Martens Clause should guide the Member States, even if any IHL principles are founded to be inapplicable, Sri Lanka stated.
Sri Lanka called upon for an open dialogue, among States Parties to CCW while inputs from other key stakeholders are also considered as per practice appropriately in narrowing the divergence of views related to ethical, humanitarian, security and strategic concerns related to the use of AI in LAWS.
The GGE Meeting is Chaired by Ambassador Amandeep Singh Gill, the Ambassador of India to the Conference on Disarmament, which is mandated to deliberate on emerging technologies in the areas of LAWS in the context of the objectives and purposes of the Convention (CCW), and broadening of the mandate on LAWS was first initiated at the meeting of the High-Contracting Parties to CCW in December 2016, Chaired by the former Permanent Representative of Sri Lanka to UN in Geneva, Ambassador Ravinatha Aryasinha.
Full Statement delivered by Mrs. Samantha Jayasuriya, Charge d' Affaires ai
Permanent Mission of Sri Lanka
Geneva
9th April 2018