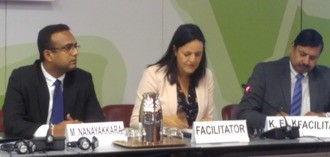 The Abu Dhabi Dialogue (ADD), being mindful of the challenges that labour migrants face, is working together through programmes and initiatives to improve their conditions, in a manner beneficial to both the sending and receiving countries.
Deputy Minister of Foreign Employment Manusha Nanayakkara made these remarks representing Sri Lanka as the Chair of the Abu Dhabi Dialogue (ADD), while moderating session "Inputs and Recommendations on the GCM by Region Breakout Groups" on 10 October 2017 at the seventh Global Meeting of Chairs and Secretariats of Regional Consultative Processes on Migration in Geneva.
The Minister noted that as a state-led regional consultative process, the ADD aims to enable safe, orderly and regular labour migration in one of the world's largest labour migration corridors. The programmes and initiatives underway include, creating an alternative model of labour recruitment, aimed at strengthening government oversight over the recruitment process to promote fair recruitment among ADD countries and reduce recruitment costs; certification and mutual recognition of skills enabling the migrant workers to advance in their careers; comprehensive information and recognition programme (CIOP) aimed at creating better awareness prior to departure; and the use of technology in governance of labour migration.
At a meeting Minister Nanayakkara held with Mr. Alex Zalami, Senior Advisor to the Minister of Labour of the UAE, the parties discussed progress of the 4 key areas of cooperation under Sri Lanka's chair of the ADD, namely labour recruitment, certification of skills and recognition, comprehensive information management and technology in the Governance of Labour Mobility, and ADD's role in the ongoing UN Global Compact for Safe, Orderly and Regular Migration. Mr. Zalami briefed the Sri Lankan delegation on the progress in the implementation of the different projects being operationalised by the ADD. They also held discussions on matters of bilateral interest, following the visit of Minister of Foreign Employment Thalatha Atukorale to UAE and several countries in GCC in her capacity as the Chair in office of ADD.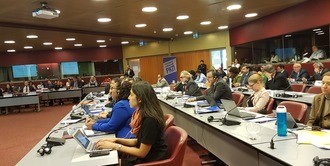 Permanent Representative of Sri Lanka to UN in Geneva Ravinatha Aryasinha, Mrs. Samantha Jayasuriya, Deputy Permanent Representative, Ms. Shashika Somaratne, Counsellor of the Permanent Mission of Sri Lanka in Geneva and Mr. W.M.V. Wansekara, Additional General Manager (International Affairs), Sri Lanka Foreign Employment Bureau were associated with Minister Nanayakkara during the meeting.
Permanent Mission of Sri Lanka
Geneva
12 October 2017