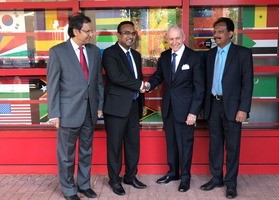 The Director General of the International Organization for Migration (IOM) Ambassador William Lacy Swing expressed his appreciation for Sri Lanka's active role in the preparations for the Global Compact for Safe, Orderly and Regular Migration as well as the role in the Migration Health discussions during the meeting between Deputy Minister of Foreign Employment Manusha Nanayakkara and the Director General of IOM on 10 October 2017 at the IOM Headquarters in Geneva. During the meeting, the two sides discussed bilateral cooperation between Sri Lanka and the IOM. In particular, the Deputy Minister spoke of the training and capacity building requirements of Sri Lanka.
Minister Nanayakkara briefed Ambassador Lacy Swing on the selection process underway for employees of the Sri Lanka Foreign Employment Bureau to be trained in the IOM under Internship programmes. Responding, Director General of the IOM highlighted the need for continued training of the consular staff of the Ministry of Foreign Affairs of Sri Lanka and the Development Officers through a joint training programme with the IOM. The two sides also discussed the successful implementation of the pilot project for electronic attestation of consular documents.
The meeting took place during Minister Nanayakkara's visit to Geneva representing Sri Lanka as the Chair of the Abu Dhabi Dialogue (ADD) in connection with the Seventh Global Meeting of Chairs and Secretaries of Consultative Processes on Migration from 10 - 11 October 2017.
Sri Lanka's Permanent Representative to the UN in Geneva Ravinatha Aryasinha and Mr. W.M.V. Wansekara, Additional General Manager (International Affairs), Sri Lanka Foreign Employment Bureau were associated with Minister Nanayakkara during the meeting.
Permanent Mission of Sri Lanka
Geneva
11 October 2017