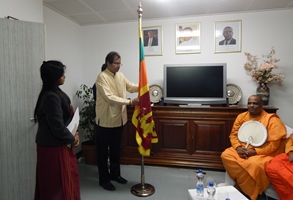 H.E. Ravinatha Aryasinha, Ambassador and Permanent Representative of Sri Lanka, highlighted the key developments following the inauguration-in-office of H.E. the President, and reflected on the importance of reconciliation and integration as the way forward for Sri Lanka. He further stated that a number of important steps were taken by the Government both domestically and internationally to promote reconciliation and economic development of the country. Speaking on the importance of continued contribution by expatriate Sri Lankans to this process, Ambassador Aryasinha stressed the need to work together as one community for a better future for Sri Lanka.
Ambassador Aryasinha made these comments at an event organized by the Permanent Mission of Sri Lanka to mark the commencement of the National Integration and Reconciliation Week (08-14 January 2017) and the Second Anniversary of the Inauguration-in-Office of H.E. the President on 08 January from 5.00-6.00pm, at the Mission premises.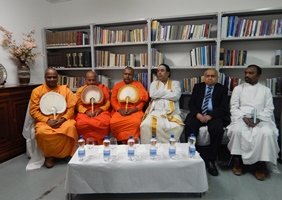 The programme commenced with the hoisting of the National Flag and followed by the singing of the National Anthem in Sinhala. Two Minutes silence was observed by those present to commemorate the war heroes and all others who sacrificed their lives in safeguarding the sovereignty and territorial integrity of Sri Lanka. Thereafter, Multi-faith Religious Observances were conducted by the religious dignitaries, invoking blessings on the country and the people of Sri Lanka and its leadership. The staff of the Mission read out the Oath of Reconciliation and the event concluded with the singing of the National Anthem in Tamil.
Traditional Sri Lankan refreshments were served at the end of the event.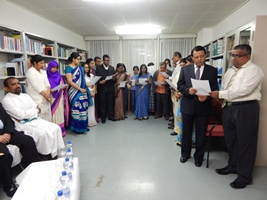 The staff of the Mission, religious dignitaries representing Buddhist, Hindu, Islam and Christian religions and representatives of the Sri Lanka Associations in Geneva, were present at the event.
Permanent Mission of Sri Lanka
Geneva
18th January 2017