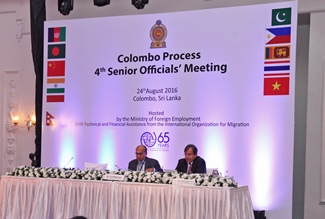 Sri Lanka's Permanent Representative to the UN in Geneva and Chair of the Geneva-based Colombo Process Member States Ambassador Ravinatha Aryasinha presenting a report of the Fourth Senior Officials' Meeting of the Colombo Process Colombo, Sri Lanka, on 24 August 2016 has detailed the tangible achievements of Sri Lanka's Chairmanship of the Colombo Process over the past 3 years.


Ambassador Aryasinha said the group had defied the conventional wisdom that the Colombo Process countries, in most instances being competitors, many of the issues that they had to grapple with were beyond the capacity of leveraging as a Group and that it must necessarily be a zero-sum-game. Under the theme "International Labour Migration for Prosperity: Adding Value by Working Together", Sri Lanka's 'road map' for its period of Chairmanship had taken on 5 of the toughest issues related to labour migration - qualification recognition, ethical recruitment, pre-departure orientation, Promoting Cheaper, Faster & Safer Transfer of Remittances, and enhancing the capacities of the Colombo Process participating countries to track labour market trends. The Colombo Process Technical Support Unit (CPTSU) had also been set up in Colombo in 2015 to support CP goals. The CP had also sought to strengthen engagement between CP countries and countries of destination, particularly the GCC countries, and also the EU countries.
The Ambassador added that with the introduction of a self-funding mechanism under Sri Lanka's Chair, the group was no longer dependent on external funds even to organize the regular meetings, and had also been able to attract substantial interest from potential donors to support its new programmes. He noted that recognition of the prevailing collaborative spirit had also resulted in the CP to start to grow in numbers, with the admission of Cambodia as a new and the twelfth-member. He hoped that more of countries will follow, with a view to strengthening providing a better, safe, and dignified life for all migrant workers from our countries, who provide an essential boost to most of our economies.
Permanent Mission of Sri Lanka