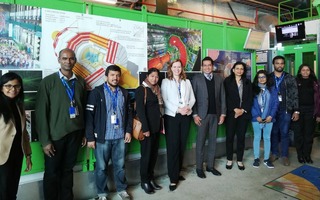 The Minister of Science, Technology and Research Sujeewa Senasinghe, during his visit to Geneva on 17 May 2019, extended an invitation to the European Organization for Nuclear Research (CERN) to participate in the Shilpa Sena exposition to be launched in July 2019 in Colombo. The exposition will provide an excellent platform for CERN and Sri Lanka to showcase the ongoing collaboration, and its potential for advancement of science in Sri Lanka. It would help create awareness and interest among students on the importance of high energy physics for Sri Lanka, stated Minister Senasinghe.
Welcoming the Minister and the Sri Lanka delegation, Ms. Charlotte Warakaulle, Director for International Relations highlighted Sri Lanka's expanding engagement with CERN over the past several years. She appreciated the Ministry of Science, Technology and Research for hosting the 2nd edition of the South Asian High Energy Physics Workshop on Detector Technology and Application in February this year.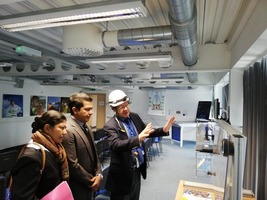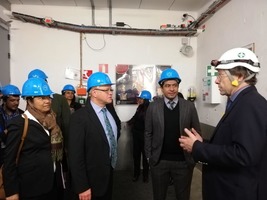 Following an exchange of views with CERN officials, Minister Senasinghe was invited to view the Compact Muon Solenoid (CMS) Detector, one of the four detectors engaged in high energy physics experiments at CERN. Mr. Deshitha Dhammage, Mr. Balashangar Kailasapathy, Ms. Kalpanie Madara Liyanage and Mr. Nimantha Perera - the four Sri Lankan PhD students engaged in the CMS experiments, participated in the visit to CMS experimental area.
Sri Lanka's participation in CERN experiments has increased and diversified following the International Cooperation Agreement with CERN and the MoU with CMS Collaboration in 2017. Sri Lankan undergraduates in Physics stream have been participating in the annual CERN Summer Student Programme since 2016 and an eight member team from Sri Lanka is currently engaged in high energy physics experiments at the CMS facility in CERN through a Consortium of Universities of Colombo and Ruhuna since early 2018.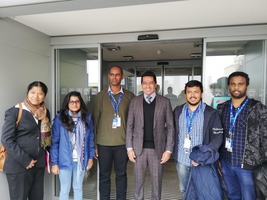 Senior Physicists of CERN, Prof. Christoph Schafer, Dr. Archana Sharma and Dr. Andrzej Charkiewicz participated at the meeting and the visit to CMS. Deputy Permanent Representative Mrs. Samantha Jayasuriya, Minister Counsellor Ms. Shashika Somaratne and Second Secretary Ms. Rajmi Manatunga were associated with the Minister at the meeting.
Permanent Mission of Sri Lanka to the United Nations
Geneva
22 May 2019