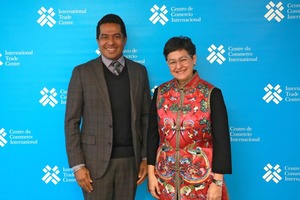 "Shilpa Sena", a rolling exposition will be launched island wide in July, geared towards bringing technological skills, knowledge and products to the general public, at a time when the country embraces new and emerging technologies. The aim of the exposition is to bridge the technological divide in the society while ensuring that no one will be left behind, as part of the government's wider policy of achieving 2030 Sustainable Development Agenda. Minister of Science, Technology and Research Sujeewa Senasinghe made these remarks addressing the High-Level Round Table on "The impact of rapid technological change on sustainable development" on 14 May 2019 while participating in the 22nd Session of the Commission on Science and Technology for Development (CSTD). The theme of this year's Commission was "The role of science, technology and innovation in empowering people and in ensuring inclusiveness and equality" and saw the participation of developing countries from Asia, Africa and Latin America as well as developed countries.

Speaking further, Minister Senasinghe stated that Nanotechnology, Biotechnology, Neurotechnology, 5G and Internet of Things, Personalised Medicine, Blue-green Technologies, New Energy, Robotics and Industrial Automation, Mechatronics, Artificial Intelligence and Space Technology have been identified as priority technology themes by the government for action. Highlighting the importance of Blue-Green economy, he stated that the objective of this initiative is to utilize ocean resources through enhanced scientific knowledge while drawing from Sri Lanka's rich heritage of indigenous knowledge.
At a bilateral meeting with Director of Division of Technology and Logistics, United Nations Conference on Trade and Development (UNCTAD), Ms. Shamika Sirimanne on 14 May 2019, Minister of Science, Technology and Research outlined the various initiatives of the Ministry including on diffusion of science literacy among the public. As part of these initiatives, Vidatha Resource Centres - an island wide network of science and technology centres will be converted to technology transfer offices while more school students will be encouraged to follow STEM education. The Ministry of Science, Technology and Research will seek through private and public partnerships to increase value addition of export products such as naturally occurring minerals in Sri Lanka including graphite stated the Minister. Tax rebates will be also provided for private companies and industries to encourage setting up partnerships with universities. Mrs. Sirimanne expressing her views on the programmes of the Ministry of Science, Technology and Research, invited Sri Lanka to share these best practices with UNCTAD to disseminate among developing countries.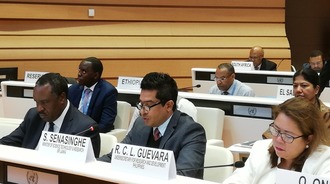 During the visit, Minister Sujeewa Senasinghe held a meeting with Ms. Arancha Gonzalez, Executive Director of International Trade Centre in Geneva on 17 May 2019 at which the parties discussed the progress of ITC's collaboration with Sri Lanka. Minister of Science, Technology and Research sought ITC's assistance on developing Sri Lanka's expertise on quality control. Using technology to improve the processes would empower segments of societies, in particular women empowerment through improved economic conditions, Ms. Gonzalez highlighted. Minister Sujeewa Senasinghe briefed the Executive Director of ITC of the many initiatives undertaken by the Ministry of Science, Technology and Research to link markets and innovation and the proposed projects to connect public institutions and private sector ensuring that both sides benefit.
Permanent Representative of Sri Lanka to the United Nations and other International Organizations Ambassador A.L.A. Azeez, Deputy Permanent Representative Mrs. Samantha Jayasuriya, Minister Counsellor Ms. Shashika Somaratne, First Secretary (Commercial) Ms. Tharaka Botheju and Second Secretary Ms. Rajmi Manatunga were associated with Minister Senasinghe at the meetings.
Hon. Minister's Full Statement

Permanent Mission of Sri Lanka to the United Nations

Geneva

17 May 2019