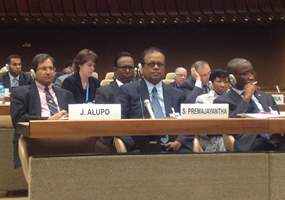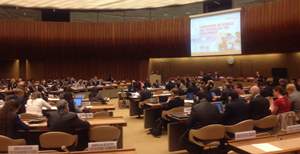 Minister of Science, Technology & Research of Sri Lanka, Susil Premajayantha said that there is a sense of urgency in Sri Lanka today over moving towards a knowledge based society. Underlining that Sri Lanka's ability to facilitate a scientific culture that encourages innovative thinking will determine the country's ability to effectively use knowledge for growth, he said emphasis has been laid on developing strong research and development culture and the methods of ensuring quality of research in the country.
Minister Premajayantha made the above observations at the 18th Annual Session of the United Nations Commission on Science and Technology for Development (CSTD) held from 9-13 May in Geneva, Switzerland, during the High Level Segment on 'Implementing the post 2015 development agenda: moving from commitments to results.'
He said that Sri Lanka having an excellent track record with MDGs, is confident about making breakthroughs in meeting the 2030 goals as per SDGs. He further highlighted that the Western Megapolis in Sri Lanka is envisioned and conceptualized as Sri Lanka's Grand Strategy to propel the country's drive to achieve that status of a 'high income developed nation' by 2030. He said Sri Lanka is working on Google's loon project in transforming the country by enabling Wi-Fi across the width and breath of the country, understanding the critical role that ICT can play in realizing the newly established SDGs.
He stated that Sri Lanka is truly committed towards the upliftment of people's lives in a fair and an equitable manner, being fully aware of the value of Science & Technology and innovation in supporting an economic transition with a strong competitive edge towards achieving SDG goals.
Addressing the High Level Segment of the CSTD on the topic of progress made on the implementation of an follow- up to the outcomes of the World Summit on the Information Society (WSIS), Minister Premajayantha highlighted that Sri Lanka's telecommunication sector is one of the most vibrant in South and South East Asia, mobile and wireless Broadband has reached 100% average in the 65,000 sq. km geographic territory of the country with 3 G becoming the 'standard' service and 3G LTE services fast rolling up. He also expressed Sri Lanka's commitment to the common vision of building a people-centered, inclusive and development-oriented information society as declared in Geneva phase of WSIS as well as to the Tunis Agenda on the Information Society.
Sri Lanka's Permanent Representative to the UN in Geneva Ambassador Ravinatha Aryasinha, Additional Secretary (Technology Research Development) of the Ministry of Science, Technology and Research Mr. H.M.B.C. Herath and Second Secretary Ms. Dilini Gunasekera were associated with the Minister during the Session.
Permanent Mission of Sri Lanka
Geneva
17 May 2016