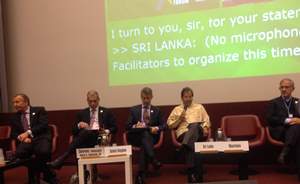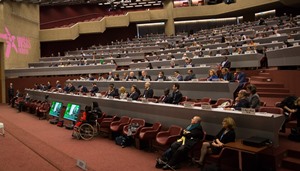 Sri Lanka's Permanent Representative to the UN in Geneva Ravinatha Aryasinha has said, by becoming a State party to the Budapest Cyber Crime Convention from 1st September 2015, Sri Lanka has demonstrated its strong commitment towards harmonizing national laws, improving investigative techniques, and increasing law enforcement and judicial cooperation among nations in combating cyber crimes.
Addressing the High Level Policy Dialogue of the WSIS Forum held in Geneva 2 – 6 May 2016, he said, Sri Lanka was the first South Asian state to do so, which has enabled that Sri Lanka is safer for international investments and trade using digital infrastructure.


Sri Lanka also supports the multi-stakeholder framework for Internet Governance. He noted that Sri Lanka's experience in implementing successful ICT4D strategies have demonstrated, it is essential to ensure that stakeholders works towards achieving a safer and secure Internet accessible to all communities. Sri Lanka has worked closely with ICANN, ITU and we have also established a vibrant Internet Society (ISOC-LK).
Permanent Mission of Sri Lanka