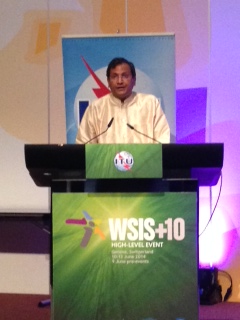 Ambassador Ravinatha Aryasinha, Sri Lanka's Permanent Representative to the UN in Geneva and Chairman of the Personal Representatives of the Group of Fifteen (G-15), has urged all WSIS+10 stakeholders to play a greater role in ensuring the inclusiveness of information society. He particularly drew attention to "the emergence of a new digital divide, especially in terms of quality of ICT infrastructure, broadband access, affordability and digital content, particularly in low-income countries, and stressed that it was "extremely important that the overall review of WSIS processes gives highest priority to the challenges in a balanced and equitable manner."

Ambassador Aryasinha made these observations when he delivered a joint statement at the High Level Meeting of WSIS+10 (World Summit on Information Society) at CICG in Geneva on 11 June, 2014, on behalf of G-15, a Summit Level Group of Developing Countries comprising 17 member States - Algeria, Argentina, Brazil, Chile, Egypt, India, Indonesia, Iran, Jamaica, Kenya, Malaysia, Mexico, Nigeria, Senegal, Sri Lanka, Venezuela and Zimbabwe.


"Information Communication Technology for Development" was identified as one of the four new thematic areas of focus for the Group in the coming years at the 36th Annual Meeting of Group's Foreign Ministers in New York on 27 September 2103. Other three thematic areas identified are: Intellectual Property and Development; Renewable Energy; and Migration and Development. This was G-15's first ever Joint Statement at WSIS and ITU. This year G-15 also delivered Joint Statements at the 67th World Health Assembly; 13th Session of WIPO's Committee on Development and Intellectual Property; and the 103rd Intellectual Labour Conference in Geneva.
Permanent Mission of Sri Lanka