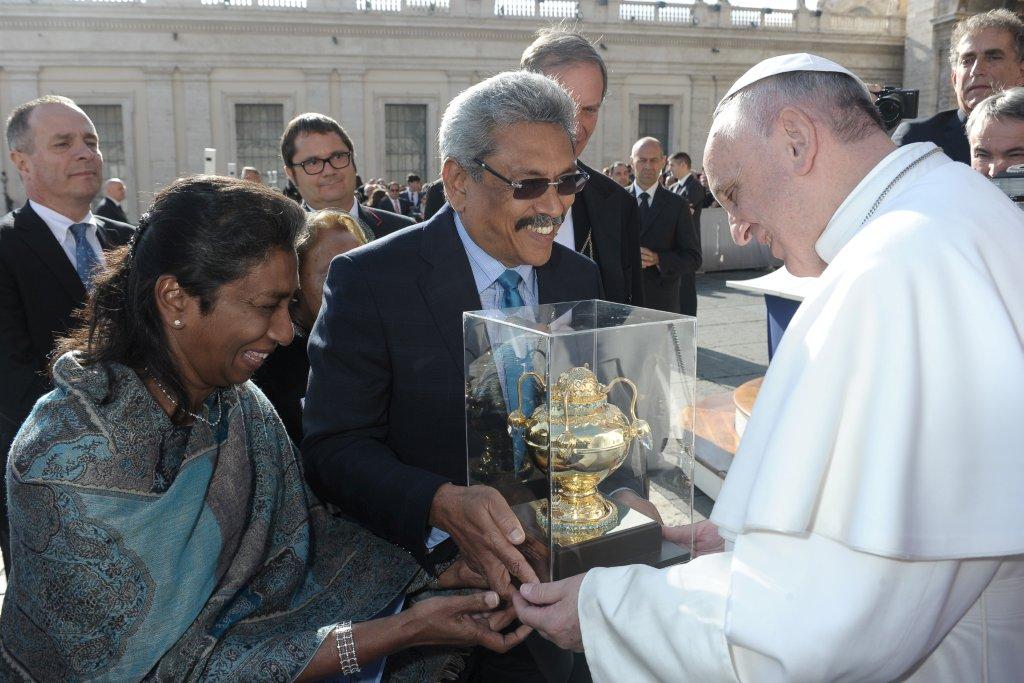 His Holiness Pope Francis received Secretary of Defence Gotabaya Rajapaksa at an audience in the Vatican on Wednesday. Mr. Rajapaksa who visited the Vatican as the Special Envoy of His Excellency the President, conveyed to Pope Francis an invitation from President Mahinda Rajapaksa to visit Sri Lanka in the near future.

During his visit, the Secretary also paid courtesy calls on dignitaries of the Vatican City State. Mr Rajapaksa appreciated efforts by the Holy See to promote world peace, disarmament, interfaith dialogue and dialogue among civilisations. He said that as a nation that has been blessed with a multi-ethnic, multi-religious and multi-cultural social fabric, and more importantly as a country that was coming out of a long period of conflict, Sri Lanka valued the strength that comes from the unity of the diverse communities in Sri Lanka. After almost thirty years of suffering, Sri Lanka had embarked upon a new era of development and reconciliation for all its people and looked upon the international community for encouragement and support.

He said that Sri Lanka was keen to explore further avenues to strengthen and consolidate relations between the Holy See and Sri Lanka.

The delegation accompanying Mr. Rajapaksa included Mrs. Ioma Rajapaksa, Ambassador of Sri Lanka to the Holy See Ravinatha Aryasinha, Ambassador of Sri Lanka in Rome Bennet Cooray, the Commander of the Navy Vice Admiral Jayanath Colombage and Chairman UDA Sirinimal Perera.
Read Media Release