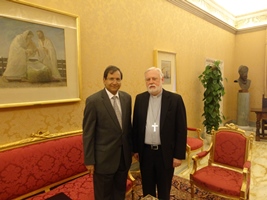 Sri Lanka's Ambassador to the Holy See and Permanent Representative to the UN in Geneva Ravinatha Aryasinha called on the Secretary for Relations with States of the Holy See (equivalent to Foreign Minister) His Excellency Archbishop Paul Gallagher at the Vatican on 18 November 2015.
Ambassador Aryasinha updated Archbishop Gallagher on the political, social and economic developments that had taken place since the visit of His Holiness Pope Francis, particularly aspects pertaining to addressing democracy and human rights related concerns, as well as ensuring a permanent peace and reconciliation.


The Archbishop expressed great happiness that Sri Lanka had made significant progress over the past months. He said all he has heard about Sri Lanka in recent times has been very positive and commended Sri Lanka for the difficult steps taken. He said it is important that lessons are drawn from the past and non-repetition is ensured. The Archbishop also commended the inter-religious dialogue that was taking place in Sri Lanka.
He expressed great concern at the ongoing violence by the ISIS and also the hardship faced by migrants and said it was important to deal with the root causes of these problems.

Monsignor Seamus Horgan, Minutante (Desk Officer) for Sri Lanka in the Section for Relations with States was associated with the Archbishop during the meeting.

Permanent Mission of Sri Lanka

19 November 2015