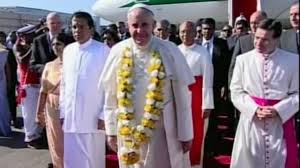 His Holiness Pope Francis arrived at the Bandaranaike International Airport this morning (Jan. 13). The Holy Father was welcomed by President Maithripala Sirisena.
The special aircraft carrying Pope Francis and the Papal delegation touched down at the Bandaranaike International Airport.
The main event in the Papal itinerary will be to declare Sri Lanka's First Saint, Blessed Joseph Vaz, the Apostle of Sri Lanka, a Saint of the Universal Church at the Pontifical High Mass concelebrated with the Sri Lankan Cardinal and Bishops along with other clergy invited to participate at the special ceremony taking place for the first time in the annals of Sri Lanka. A stamp and a first day cover will be issued in honour of the Papal visit. A special gold coin is also to be issued.
Once the ceremonies at the Airport are over, His Holiness will be taken in an open motorcade to the Residence of the Apostolic Nunciature. Pope Francis will meet the Bishops of the Archdiocese and seminarians at noon. His Holiness is also due to call on President Maithripala Sirisena and hold a private meeting.
Pope Francis will meet religious dignitaries at the BMICH and will be received by His Eminence Malcolm Cardinal Ranjith and other Bishops.
The Maha Sanga present at the BMICH will chant Seth Pirith while Kurukkals, Mowlavis and Ecumenical Group will recite prayers. An address will be made by a member of the Maha Sangha which will be followed by a reply by the Holy Father. The Holy Father will then greet all religious dignitaries present at the BMICH.
Issuing a statement under the heading 'Let us give Pope Francis a Prophet's Welcome', the Bishop of Badulla Most Rev. Dr. J. Winston S. Fernando said a Prophet is docile to the spirit of God and is a seeker of wisdom, of truth and of Justice.
Pope Francis is a Prophet within and without the Church, a prophet of our times, a courageous realistic man of God, the visible representative of Jesus Christ, the Prophet of all Prophet, the statement said.
He is to canonize Blessed Joseph Vaz on January 14 as the Apostle of Sri Lanka. Blessed Joseph Vaz carried out his mission during the persecution of Catholics during the period of the Dutch in Sri Lanka and risked his very life to revive the faith of the people. He is considered as the second founder of the Catholic Church in Sri Lanka. He is a Missionary prophet par excellence. Let us invoke God's blessings' upon our Mother Land and all its peoples and leaders through the intercession of Saint Joseph Vaz.
This is the third time when a Pope visited Sri Lanka. Earlier, two Holy Fathers visited Sri Lanka in 1970 and 1995. Accordingly, Pope Paul VII visited Sri Lanka in 1970. Then Saint John Paul II arrived here on January 20, 1995.