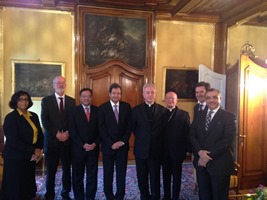 Ambassador Ravinatha Aryasinha met Archbishop Dominique Mamberti, the Secretary for Relations with States of the Holy See at a luncheon meeting on 6th December 2014 in Bern. The luncheon meeting was organized by Monsignor Diego Causero, Ambassador of Holy See in Bern for diplomats accredited to the

Holysee

, on the occasion of Archbishop Mamberti's visit to Switzerland.
At the meeting Ambassador Aryasinha updated Archbishop Mamberti on the arrangements for the visit of His Holiness Pope Francis to Sri Lanka in January 2015. They were confident that the visit will further strengthen ties between Sri Lanka and the Holy See.
Permanent Mission of Sri Lanka
Geneva