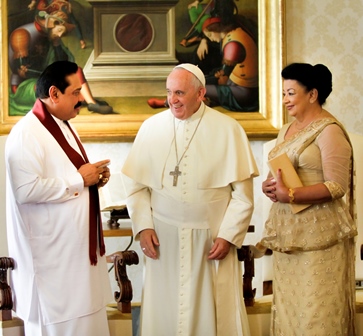 President Mahinda Rajapaksa who was received at an audience by His Holiness Pope Francis I this morning extended an invitation for His Holiness to visit Sri Lanka in January next year.


President Rajapaksa and First Lady Shiranthi Wickremasinghe Rajapaksa who arrived at the Vatican this morning were received with honor by Head of Vatican Protocol Office, Msgr. Jose Avelino Bettencourt. The traditional Swiss Guards of the Vatican formed a Guard of Honor to the President. Later the President, First Lady and members of the Sri Lanka delegation were escorted to Apostolic Palace where President Rajapaksa had his audience with His Holiness at the special audience hall of the Palace.

At the cordial discussions between the President and His Holiness, President Rajapaksa informed His Holiness of the progress made in resettling internally displaced persons, the rehabilitation and reintegration of former combatants, the return of child soldiers recruited by the LTTE to their parents, progress made in the clearing of landmines, infrastructure development and progress made in health, education, power supply and similar progress made since the end of the conflict in Sri Lanka.

His Holiness was further told of the country being directed towards rapid economic progress and the steps being taken to build national unity. The elections held to the Northern Provincial Council was shown as an example of the restoration of democracy that had been destroyed due to terrorism. The President informed His Holiness that although certain groups spread wrong information on the matter, members of all religions in Sri Lanka live in friendship and harmony.

His Holiness the Pope expressed his gratitude to the President for explaining the current situation in Sri Lanka and said he was eagerly awaiting a visit to Sri Lanka.

After the meeting with His Holiness President Rajapaksa had a brief discussion with His Eminence Pietro Cardinal Parolin, Secretary of State and Prime Minister of the Holy See.

Later in the day President is due to meet Sri Lankan expatriates.

Chief Justice Mohan Peiris, Minister of External Affairs Prof. G. L. Peiris, Minister of State Resources and Enterprise Development Mr. Dayasritha Tissera, Minister of Social Services Mr. Felix Perera, Deputy Minister of External Affairs Mr. Neomal Perera, Minister of Coconut Development and Janatha Estate Development Mr. Anthony Victor Perera, Monitoring MP of the Ministry of External Affairs Mr. Sajin de Vass Gunawardena Chief Opposition Whip Mr. John Amaratunga, Secretary to the Ministry of External Affairs, Mrs. Kshenuka Senewiratne and Chief of Staff of the President Mr.Gamini Senarath are also accompanying the President during this tour.
Courtesy: www.priu.gov.lk