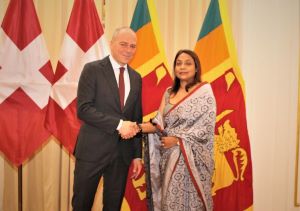 The 2nd Experts Meeting on the Migration Partnership between Sri Lanka and Switzerland was held on 16 May 2023 at the Ministry of Foreign Affairs. The meeting was co-chaired by Director General/Europe & North America the Ministry of Foreign Affairs of Sri Lanka Shobini Gunasekera, and Ambassador Vincenzo Mascioli Director of International Affairs, State Secretariat for Migration (SEM), Federal Department of Justice and Police (FDJP) of Switzerland.
The meeting reviewed the progress made under the Migration Partnership since its launch in 2016 and discussed the priorities and challenges for the future. The two sides reaffirmed their commitment to enhancing bilateral cooperation on migration issues. They also exchanged views on current migration trends, developments, and avenues for promoting employment opportunities in Switzerland for skilled workers from Sri Lanka. Both sides agreed to explore possible future cooperation in the hospitality sector, especially sustainable tourism and also in the fields of vocational training, skills development and sustainable reintegration.
The Swiss delegation extended their appreciation towards Sri Lanka for its excellent cooperation in matters related to migration. Senior officials of relevant line ministries and government agencies including the Ministry of Foreign Affairs, Ministry of Labour & Foreign Employment, Ministry of Defence, Ministry of Public Security, Ministry of Tourism & Lands, Ministry of Urban Development, Department of Immigration & Emigration, Sri Lanka Bureau of Foreign Employment, Tertiary and Vocational Education Commission, Vocational Training Authority, Sri Lanka Institute of Tourism and Hotel Management participated in the discussion.
Read More: www.mfa.gov.lk
Ministry of Foreign Affairs
Colombo
18 May 2023

View PDF