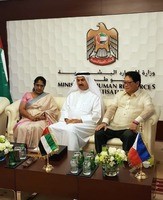 Justice and Foreign Employment Minister Thalatha Athukorala visited UAE in her capacity as the Chairperson Abu Dhabi Dialogue and met the Human Resources and Labour Minister Saqr Ghobsh.
The Minister said that he is willing to extend all support to strengthen the relationship between the two countries during the time Minister Athukorala is holding the Chairperson of Abu Dhabi Dialogue.
Minister Athukorala also had discussion with all the ADD Ambassadors who are resident in Abu Dhabi.
Source : www.news.lk