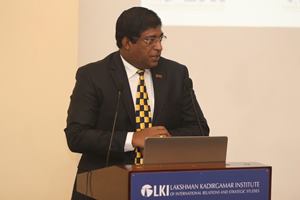 Hon. Governors and Ministers, Your Excellencies, Distinguished Guests, Ladies and Gentlemen: It gives me great pleasure, as the new Chairman of the Lakshman Kadirgamar Institute, to address this eminent gathering of policymakers, diplomats, scholars, corporate leaders, lawyers, civil society, and students, at this landmark event on Sri Lanka's foreign policy.
It has been a little over a month since I became Foreign Minister. I am conscious that I have assumed an office and responsibilities previously held by some of our most illustrious leaders, not least by the late Hon. Lakshman Kadirgamar after whom this Institute is fittingly named, but also by Mr. A.C.S. Hameed, Mrs. Bandaranaike, and several others, each of whom left invaluable legacies for our international relations.
While it is early days of my tenure, I can say that one of my priorities is to build a foreign policy – and a foreign service – that predicts and innovates, rather than one that reacts and stagnates. So I look forward to hearing the forecasts and analysis of the experts invited to speak today, as part of developing a foreign policy that foresees and grasps the opportunities of a changing world. For my part, I will begin the discussion by, first, briefly observing three major shifts that are apparent in the current international order.
Some of these shifts present opportunities, while some present risks – but mostly, I believe, they will present what we as Sri Lankans will choose to make of them. In the second part of my address, I will therefore outline some thoughts on how Sri Lanka's foreign policy can adapt to these global shifts. Finally, I will speak on how the Foreign Ministry itself must change, to effectively implement policies for Sri Lanka's long-term economic and strategic interests.
1.A Changing World: Three major shifts
To begin the discussion of major global shifts, I want to highlight three such shifts, although many more will be discussed today. These three are:
First, the sustained shift in economic power from the West to East;
Second, the recent social and political resistance, in some parts of the world, to previously established values of the global order. These values include globalisation, free trade, a rule of law, and democratic principles; and
Third, the transformation of national and international society due to rapid digitalisation.
(i) Economic Power from West to East
The first shift, in economic power from the West to East, has been gathering pace for some decades, and has accelerated since the early 2000s. In particular, 2001 may be seen as a watershed moment in this shift because of China's accession to the World Trade Organisation in that year, which resulted in estimated gains of nearly USD 10 billion a year for the Chinese economy.
Sixteen years later, China is the world's largest economy in terms of purchasing power parity (PPP). Even in terms of nominal GDP, it is estimated to overtake the US as the world's largest economy by 2029. Meanwhile, India is predicted to overtake the US as the world's second-largest economy in PPP terms by 2050.
The growing economic power of these Asian powers has also translated into more confident foreign policy initiatives. China's Belt and Road Initiative (BRI) is one of the most ambitious connectivity plans ever envisioned, which could result in USD 1 trillion of investment in over 60 countries. India is also strengthening its regional engagement, with one example being Prime Minister Modi's commitment of USD 2 billion towards strengthening India-ASEAN connectivity.
For Sri Lanka, this shift from West to East is naturally a welcome development. Given our strategic location at the centre of the Indian Ocean, it provides an unprecedented potential economic opportunity, if we carefully plan and actively pursue it.
(ii) Weakened confidence in foundational values
The second global shift I want to note is a weakened confidence, in previously well-established principles that underpinned the international order. These principles include globalisation, free trade, the rule of law and liberal democracy. This shift can also be traced back to the year 2001, when the U.S. experienced its terrorist attacks and confronted a predicament that we in Sri Lanka had faced for a long time: that is, the question of how to ensure a free and open society in view of a major threat to national security and sovereignty.
The gradual weakening of confidence in established norms and values, especially in the West, is apparent in Brexit and in last year's presidential election in the U.S. and the subsequent political turbulence. While global values of political and economic freedom were unfortunately never universally applied or evenly enforced in our world, there is now even more uncertainty as to how we can ensure a rules-based international order, which includes norms like freedom of navigation and overflight, free trade, democratic institutions, and the equal rights of all.
As a smaller state in a region with increasingly powerful players, Sri Lanka should be concerned about any apparent weakening of support for these values, which are necessary for Sri Lanka's long-term stability and interests. To paraphrase the first Foreign Minister of Singapore, the Sri Lankan-born S. Rajaratnam, a smaller state needs a rule-based international order for "practical self-interest, and not vague idealism," so that it can ensure its long-term objectives of peace through collective security, economic development, and self-determination.
(iii) Increasing digitalisation
The third shift that I want to highlight is the growing digitalisation of societies and political activity. From tweeting Presidents to more serious concerns such as the hacking of sensitive government data, and terror networks spreading via social media, the information revolution is transforming our world. The ability of social media networks to effect far-reaching changes is not yet visible in Sri Lanka, but this is only a matter of time. Events like the Arab Spring have shown us that social media activism can be revolutionary and even anarchic; causing further insecurity in a world that is already facing uncertainty about established values.
Despite the uncertainties and risks of digitalisation, however, young people are fully embracing it. In Sri Lanka, as in many other parts of the world, the highest percentage of social media users is aged between 18 and 34. Access to an endless flow of information from various quarters through mobile phones makes the younger generation more sceptical of official sources of information and less accepting of traditional social hierarchies. Sri Lanka must not fear these changes but rather, should recognise them as potentially valuable resources, and find ways to harness them for exponential national growth.
2.How Sri Lanka's foreign policy should respond to these shifts
I want to comment briefly on how Sri Lankan foreign policy can evolve in light of each of the 3 shifts just mentioned: the increasing power of the East relative to the West; less confidence in the underlying values of the international order; and rapid digitalisation.
As observed earlier, the shift in power from West to East is a positive one for Sri Lanka. This is indicated by the interest of the major regional powers in investing in Sri Lanka. India has indicated an interest in investing over USD 2 billion, in the East Container Terminal of the port, along with other projects like the oil tank farm in Trincomalee under a public-private partnership with the Sri Lankan government.
China is investing over USD 1.5 billion in building the Colombo port and International Financial City (CIFC). Japan, is also investing in key projects, including in a LNG terminal (jointly with India), and is actively seeking more opportunities here.
Yet despite these positive developments, Sri Lanka has so far been largely reactive to the interest of its neighbours and potential partners. We cannot afford to remain complacent, believing that we will automatically reap the economic rewards of a global shift from West to East. We will not. It is worth noting that, although China is a large investor in Sri Lanka, foreign direct investment from China in other regional economies like Laos, Cambodia and Malaysia is much higher than to Sri Lanka.
Sri Lanka must, therefore, develop a proactive foreign policy centred on commercial diplomacy, to maximize the benefits of growing economic power in our region. There are several strategies of commercial diplomacy that we should pursue. I will just mention a few of these:
First, we should pursue a "hub diplomacy", which relentlessly promotes Sri Lanka as the first-choice location for the regional headquarters of international companies, from established multinationals to expanding start-ups. Just as Singapore established itself as a successful hub between India and China, so too can Sri Lanka – as a centre of the entire Indian Ocean region (that has a population over 2 billion), between Singapore and Dubai.
Second, while "thinking global", our foreign service must also "act local," by utilising strategies of para-diplomacy. As the Prime Minister has observed, there are untapped opportunities in neighbouring cities and regions, including with the 5 southern states of India: Karnataka, Andhra Pradesh, Tamil Nadu, Kerala and Telegana. These states have a total population of 250 million people and GDP of US$400 billion.
Third, we must continue to prioritise our proposed free trade agreements with India, China and Singapore. If our local resources are overstretched, we should seek external expertise and training to conclude these negotiations.
Fourth, we should research the potential to engage with proposed "mega FTAs" like the Regional Comprehensive Economic Partnership (RCEP), and similarly, advocate greater trade liberalisation in regional groupings that Sri Lanka is already part of, like BIMSTEC and the Indian Ocean Rim Association (IORA). The potential of IORA, for example, is evident in the numbers: its member states represent more than a quarter of the global population yet less than 10% of GWP. The IORA of today could become the ASEAN of tomorrow.
Sixth, we need to promote the integration of Sri Lankan small and medium enterprises (SMEs) into global and regional value chains.
Seventh, just as India has done with its own diaspora, we must reach out to Overseas Sri Lankans. They have networks and know-how that we currently do not even appreciate, let alone leverage.
Sri Lanka's overall mission in pursuing these strategies is to maximise the economic benefits of its unique location, at the centre of trading networks in the Indian Ocean, and at the doorstep of the Indian subcontinent. In other words, Sri Lanka must cultivate a dual identity as both the 'Centre of the Indian Ocean', and the 'Gateway to the Subcontinent'.
Several other economies have successfully built and leveraged such a dual identity, including Hong Kong in relation to China, Singapore with ASEAN, and even New Zealand with Australia. As I explained in a recent interview, Hong Kong built its prosperity by marketing itself as an international financial city, as well as a gateway to mainland China.
Achieving a successful dual identity, however, is not merely a commercial task. Sri Lanka's commercial diplomacy must be founded on clear and stable principles, to underpin the policy consistency that investors demand, and to safeguard our security from emerging regional power plays that are already apparent in the South China Sea and on the Korean Peninsula. This brings me to how Sri Lanka should respond to the second global shift: weakened support for the values of the international order.
There may be some in Sri Lanka who are tempted see a global shift from away from these values as an opening for Sri Lanka, for us to be less bothered with standards like the rule of law and free trade. I take a different and more long-term view. An international rules-based order is essential for Sri Lanka's peace and security, economic growth, and democratic stability.
Indeed, smaller countries like ours rely on a rules-based order, as a far more preferable alternative to the scenario of rule by force – a game which we cannot win, and certainly not alone. It is for this reason that Prime Minister Lee Kuan Yew once wrote that "Singapore must remain committed to upholding the rule of law in relations between states," even if there are limits to the efficacy of international law.
Sri Lanka's development as a centre of the Indian Ocean cannot afford a weakening of international rules and principles like freedom of navigation, commitment to the law of the sea, and democratic values. This is why President Sirisena signed the Jakarta Concord this March at the IORA Summit, affirming freedom of navigation, a "culture of democracy" and human rights, and Prime Minister Wickremesinghe has recently spoken of a Code of Conduct for military vessels in the Indian Ocean. Our foreign policy must therefore continue to advocate and support a rules-based global order.
With regard to the third shift of digitalisation, and the millennial generation that has grown up with it, Sri Lankan foreign policy must look upon this shift as an unusual opportunity, with high potential. Sri Lanka has developed great minds and expertise that are pushing the boundaries of information and communication technology, in both the educational and private sector.
For example, in 2013, the University of Moratuwa had the most number of student projects accepted by Google's Summer of Code programme for the seventh year running, beating all other universities in the world, including the National University of Singapore (which ranked in 7th place) and Peking University (which ranked 9th). Our IT professionals have created software for global clients like the London Stock Exchange.
Achievements like these can be multiplied if our foreign policy goes beyond formal diplomatic relations to establishing valuable people-to-people links, with key partner economies. For example, our missions abroad can assist the thousands of Sri Lankan students studying abroad, including in India and China, to obtain internships in high-growth companies and new industries. These students may then return to Sri Lanka with networks that they can tap. Even if they remain abroad, we can tap them for ideas, network introductions, and other assistance.
3.How the Foreign Ministry should respond to these shifts
I have already ventured into my final point, which is the need for our Foreign Ministry to develop into a proactive and unified team of diplomats and missions – beyond the current situation in which we have excellent Foreign Service officers without comprehensive and transformative team support.
To take full advantage of the shift in economic power to Asia, we should and will prioritize commercial diplomacy. Our recruitment should target professionals from the private sector, even if only on secondment, and commercial attaches in our missions abroad need to be skilled in trade negotiations, and fluent in the local language. We will work to attract young Sri Lankans who have studied abroad in countries like China, so that we will gain officers with the required cultural fluency and language skills, without significant additional investments of time and money.
There are several foreign ministries in other countries that offer valuable examples of commercial diplomacy. The New Zealand government developed its national brand as 'New Zealand Inc.' and it ensures that New Zealand's private sector is deeply involved in strategizing New Zealand's trade policy. Officers in their Ministry of Foreign Affairs and Trade, and even the Media Advisor, have previously worked at a senior level in the dairy sector. This helps to ensure synergies and transfers of knowledge between New Zealand's foreign ministry and private sector.
As to how the Ministry should promote international principles like freedom of navigation, free trade, the rule of law and human rights, we can begin by formulating an organisational Mission, which states the aims of Sri Lanka's foreign policy and the principles for which we have always stood. Just like staff of leading private sector companies are guided by a corporate mission, so too should our Foreign Service officers. The Netherlands is one example of a nation that does this well, by explicitly stating that its foreign policy aims to achieve security, prosperity and freedom.
Finally, in view of digitalisation and the millennial generation, the Ministry's institutional culture and structures may need an overhaul. We can increase the reach of our digital diplomacy, especially by penetrating foreign markets such as China, using channels such as Weibo and Wechat. While a few of our missions already usefully employ digital diplomacy, every mission's social media should proactively market our country and opportunities. For examples of this approach, one need only look at the Facebook pages of some of the foreign missions here in Colombo.
It has been observed that the most important aspect of foreign policy is the people who make it, and if the Ministry is to attract the best and brightest of the millennial generation, it must be attuned to their expectations. Millennials don't want staid and hierarchical bureaucracies. Rather, they want horizontal workplaces, where their voices are heard from Day 1, with clear targets and merit-based advancement.
If we want young innovators, we must be committed to a culture of innovation. We can't promise casual clothes and table tennis at our offices like in Silicon Valley, but we can start with new practices like an Ideas Lab, online and in person, and an "open door" policy. Many Foreign Service officers are already offering valuable suggestions.
To sum up, our relations with India over the years has been built on mutual confidence and respect for each other. What we have to ensure is that this cordiality is not exploited by political or any other opportunist to their advantage. Therefore, it is incumbent upon me to safeguard and develop our ever-strengthening relationship to the highest levels.
The Sri Lankan foreign policy must prioritize commercial diplomacy, take a clear stand for values that are in its long-term interest, and embrace – not fear – digitalisation and the millennial generation. This is a tall order but we can achieve it together. As the late Hon. Lakshman Kadirgamar said of our difficult peace process, "it's not a question of pulling a rabbit out of a hat."
Likewise, building a foreign policy for our changing global order is no easy task, but it is an imperative nonetheless. During these changing times, we cannot afford to stand still. Let us move ahead and grasp the hand of others who, like us, want to secure continued peace and prosperity.
Thank you.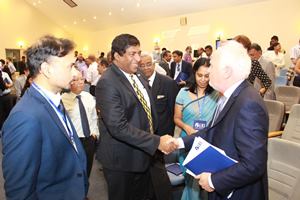 Courtesy: www.mfa.gov.lk

Wednesday, 28 June 2017
Ministry of Foreign Affairs