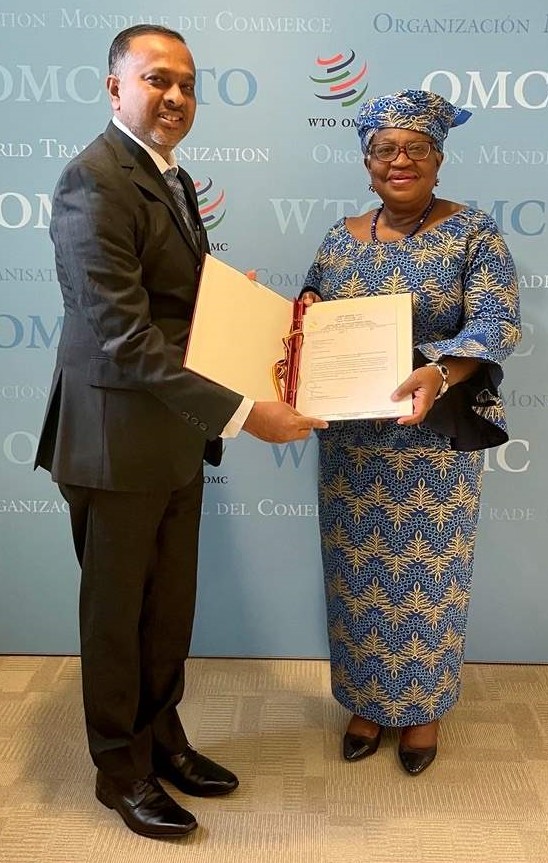 Ambassador/ Permanent Representative of Sri Lanka to the World Trade Organization (WTO) in Geneva, Mr. R.G.S Wijesekara presented his credentials to the Director General, Dr. Ngozi Okonjo-Iweala of the WTO on Wednesday, 27 July 2023 at the WTO Secretariat in Geneva.
During a brief meeting at the presentation of credentials, Ambassador Wijesekara conveyed the personal greetings of the Hon Minister of Trade Commerce & Food Security of Sri Lanka to the Director General. He also remarked on the ambitious regional trade reforms agenda of the Hon President that leads to better building block for our multilateral engagements. Ambassador Wijesekara also highlighted the need of 360 degree capacity building initiatives; including from the WTO for better integration of countries like Sri Lanka to the multilateral trading system.
Ambassador Wijesekara served as Director of Commerce at the Department of Commerce as well as a member of the Cabinet Appointed National Trade Negotiation Committee, prior to his assignment as Ambassador of Sri Lanka to the WTO.
Permanent Mission of Sri Lanka
Geneva
27 July 2023