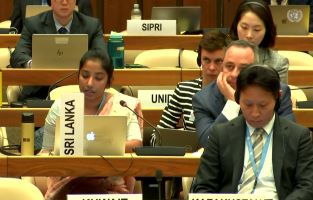 Thank you Mr. Chair,
Our comments at this point are with regard to paragraph 25 on legal review. It is the understanding of our delegation that legal reviews with regard to autonomous weapon systems should be inline with the already existing obligations under Art. 36 of the Additional Protocol I and that we should not in anyway agree to obligations on legal review for autonomous weapon systems that are weaker than the already existing obligations under Art,36. It is also recalled that most provisions of the Additional Protocols have gained the status of customary international law. We also note that the obligation under Art 36 of the Additional Protocol I finds its basis in article 35 of the Protocol which provides that the right of states to choose means and methods of warfare is not unlimited.
Art. 36 requires to determine whether the employment of weapons, means and methods of warfare would, 'in some or all circumstances' be prohibited by international law. In this sense we believe that the legal review process should consider whether the use of an AWS is in compliance with international law " in some or all circumstance" and we therefore suggest to make this change in the text. We also support the suggestion by the Swiss delegation as well the delegation of Ireland now to delete the words " seek to" in this section.
We note that the issues of 'predictability and reliability ' pose an important question with regard to compliance of an autonomous weapon system with international law. If an autonomous weapon systems functions in a way that could not be predicted due to a system error or due to its reaction to an unforeseen event, the question of accountability gap would come into play. Therefore it is also important to pay due consideration to unintended harm as well during the cause of legal review in the case of for example a system malfunction, cyber-attack or a programming error.
Art, 36 requires legal reviews be conducted " in the study, development, acquisition or adoption of a new weapon means or method of warfare". In this light we emphasize that the process of legal review should include the entire life cycle of an autonomous weapon system and that this aspect should be duly reflected in this paragraph.
We request to refer to international law and to IHL in particular in this paragraph in line with similar amendments suggested to other paragraph of the text. It is important for the process of legal review to consider whether autonomous weapon systems under review are not only in compliance IHL but also with international human rights law. For example whether the use of a particular weapon system constitutes a violation of the right to life or the right to dignity of the target should be considered in the process of legal review.
Finally Mr Chair, we would also like to highlight that as much as there is agreement including of my delegation on the importance of legal review, legal review of autonomous weapon systems would undoubtedly pose significant technical challenges that require considerable human and financial resources given the required level of multidisciplinary engagement in this process requiring expertise from various fields such as technical, medical, legal as well as operational. The increasing sophistication of weapon systems would also require frequent reviews to be conducted adding to the complexity of the legal review process of autonomous weapon systems.
Thank you Mr Chair.