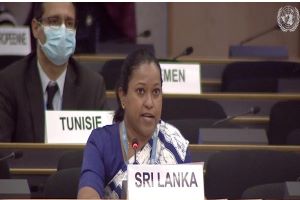 45th Session of the Human Rights Council
Agenda Item 2: Enhanced interactive dialogue on the oral update of the High Commissioner on the human rights impact of the COVID-19 pandemic
15 September 2020
Madam President,
As this Council is aware, last November, the people of Sri Lanka gave a resounding mandate to President Gotabaya Rajapaksa to pursue a policy framework aimed at achieving the fourfold outcome of "a productive citizenry, a contented family, a disciplined and just society and a prosperous nation.
This historic mandate was renewed by the people at the General Election held last August, with an unprecedented percentage of 59.09% votes, for the first time in the history, in an election held under the Proportional Representation System. This is a clear signal of the support of the people of Sri Lanka for a path forward for the country, towards prosperity while safeguarding the people and protecting the sovereignty of the country without succumbing to any force.
Madam President,
At a time when even highly developed countries in the world were left with a substantial challenge in the wake of the COVID – 19 pandemic, Sri Lanka was able to successfully face the challenge by containing its spread, thanks to a well-coordinated mechanism of preventive measures at the national level, assisted by a robust local healthcare system.
This was a result of a series of measures taken by the Government to mitigate the challenges posed by COVID-19, which have been inclusive, non-discriminatory and holistic, providing foremost importance to safeguarding the health and safety of its people. Such measures included, financially supporting low income families, pensioners and differently-abled, day-income earners and farmers, managing the repatriation of Sri Lankans in a coordinated manner, exploring avenues of business to create new economic trends while supporting existing industries and moving forward to the use of the digital technology including to connect the farmer, consumer and supplier, delivery of essential items and services, and distant education.
The WHO has commended Sri Lanka's efforts to control COVID-19 more effectively than more resourced countries even with modest means. Sri Lanka is the first in South Asia to have successfully conducted Parliamentary elections early last month with a 71% voter turnout and was among the first countries in South Asia to open schools and bring back children in a safe way, as commended by the UNICEF. Furthermore, the World Travel and Tourism Council (WTTC) has recently stamped Sri Lanka as a safe haven for tourists.
Madam President,
During the height of the COVID-19 pandemic, approximately 1.5 million migrant workers from Sri Lanka were overseas. Many of these migrant workers are facing the grim prospect of losing their jobs and means of livelihood, while some are faced with the challenge of enforced return.
The Government of Sri Lanka has given high priority towards addressing their concerns, providing food and medicines where required, and where possible, working with the host countries to obtain legitimization of their status and medical facilities including testing for COVID-19.
Through a whole-of-Government approach to overcome the challenges and manage the health, quarantine and travel logistics aspects, Sri Lanka is currently in the process of expediting the return of nearly 40,000 migrant workers.
Madam President,
Sri Lanka notes with concern that developing countries are facing an unprecedented economic and debt crisis due to the pandemic. The need for debt relief and financial stimulus for these countries must be duly recognized. It is important to provide necessary financial support to such countries enabling them to face diverse socio-economic consequences caused or aggravated by the pandemic. It is also essential to ensure that all countries have unrestricted access to vital medical resources required to respond to Covid-19 and do not face impediments in their procurement.
Sri Lanka believes in national and regional level initiatives to complement and strengthen the global response to this crisis. Accordingly, Sri Lanka has contributed USD 5 million to the SAARC COVID – 19 Emergency Fund to assist the South Asian region in its efforts to deal with this challenge.
In conclusion,
Let me re-affirm Sri Lanka's unequivocal support to the global efforts towards a comprehensive, collective and effective response to Covid-19, for the benefit of all people.
Thank you.