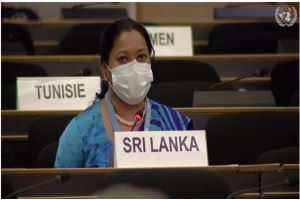 43rd Session of the Human Rights Council
Agenda Item 1 - Urgent Debate on the "current racially inspired human rights violations, systemic racism, police brutality and the violence against peaceful protest"
Statement by the Democratic Socialist Republic of Sri Lanka
17 June 2020
Madam President,
Sri Lanka considers this Urgent Debate on "racially inspired human rights violations, systemic racism and police brutality against people of African descent, and violence against peaceful protest" an important and timely decision by the Human Rights Council (HRC) during its on-going 43rd session. We thank the African Group for proposing this initiative and the members of the Council for endorsing it.
Madam President,
As of today, we have passed several centuries since the inception of the modern notion of human rights, and 75 years since its consolidation and proliferation through the United Nations Charter followed by a series of core human rights instruments.
While some progress has been made, events that occur from time to time, including the recent racially inspired human rights violations against persons of African descent, serve as a grim reminder that, beneath the surface of perceived equality, centuries-long systemic prejudices and discrimination persist against some segments of the world population, in particular persons of African descent and people of different socially constructed notions of colour.
As a country that had been subject to centuries of colonialism, and as a co-sponsor of the historic 1955 Bandung Conference which brought Asian and African leaders together in their call for "equality among all races and among all nations, both large and small", Sri Lanka stands in solidarity with the brothers and sisters of the African Group in their call urging States and all stakeholders to address these issues which impact on the enjoyment of human rights by People of African descent.
In this regard, Sri Lanka associates itself with the statement delivered by the Non Aligned Movement under this Urgent Debate.
We also reaffirm the position expressed by the leaders of the Non-Aligned Movement (NAM) at its 18th Head of States' Summit in October 2019, condemning all forms of racism, racial discrimination, xenophobia and related intolerance, including the platforms and activities related thereto, which constitute serious violations of human rights and fundamental freedoms, while impeding equal opportunity.
Madam President,
While expressions of solidarity are important, Sri Lanka strongly feels that it is through action at international level that we will be able to turn the International Decade for People of African Descent from 2015 to 2024, declared by UN General Assembly Resolution 68/237, into a sincere and meaningful effort at ensuring recognition, justice and development for persons of African descent and people of different socially constructed notions of colour.
In conclusion, my delegation while recalling Sri Lanka's active role in negotiations on the Outcome Document of the Durban Review Conference in 2009, wish to affirm Sri Lanka's commitment to the core principles of equality and non–discrimination embodied in the DDPA.
Thank you.