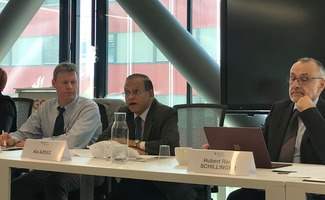 The window of opportunity that was opened up, and the positive spirit generated in moving forward the substantive work in the Conference of Disarmament (CD) with the adoption of Decision 2119 under the Presidency of Sri Lanka, 'can be carried through to creatively looking at ways and means of arriving at a negotiated outcome at the 2020 NPT Review Conference,' said Ambassador A.L.A. Azeez, Permanent Representative of Sri Lanka in Geneva. He made these remarks chairing a panel session titled ' Reviving the NPT and Conference on Disarmament: Means and Processes to Ensure Success' at the Framework Forum Roundtable, co-organized in Geneva on 19th April 2018, by the Geneva Centre for Security Policy (GCSP) and several other organizations.
Echoing the words of the UN Secretary General who stated that "it is time to translate the Decision into resumption of negotiations", Ambassador Azeez added "this development has come up at a critical time when there is growing impatience among the non-proliferation and disarmament community over the long spell of 'inaction', spanning over two decades".
Noting that the second round of consultations of the parties to the Treaty on Non-Proliferation of Nuclear Weapons, are to commence next week in Geneva, to prepare for the NPT review in 2020, Sri Lanka's Permanent Representative remarked "While non-proliferation should receive a clear focus along with a pronounced emphasis on peaceful use of nuclear energy, the advancement of these objectives would be effective and meaningful when sustained efforts towards the eventual elimination of nuclear weapons follow in tandem". He said "it was time to be imaginative, yet pragmatic".
Mr. Sico van der Meer, Clingendal Institute, the Netherlands, and Ms. Tarja Cronberg, Chair,Middle Powers Initiative, Stockholm International Peace Research Institute(SIPRI), joined this panel as speakers addressed 'How to make the NPT RevCom in 2020 a success?' and 'Long term reform needs for the NPT survival?' respectively.
Permanent Mission of Sri Lanka
Geneva
20 April 2018