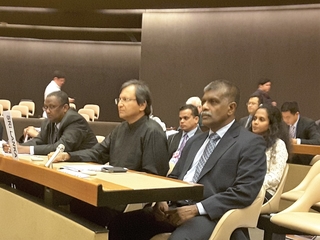 Sri Lanka participated in the 7th Meeting of the Convention on Cluster Munitions (CCM) entered into force in August 2010, held in Geneva on 4-6 September 2017, which opened today.
The attached statement was delivered by Sri Lanka's Permanent Representative to the UN in Geneva Ravinatha Aryasinha.
Convention on Cluster Munitions (CCM) is an international treaty that addresses the humanitarian consequences and unacceptable harm to civilians caused by cluster munitions, through a categorical prohibition and a framework for action. The Convention prohibits all use, production, transfer and stockpiling of cluster munitions. In addition, it establishes a framework for cooperation and assistance to ensure adequate care and rehabilitation to survivors and their communities, clearance of contaminated areas, risk reduction education and destruction of stockpiles.
Sri Lanka's delegation included Major General D S Weeraman psc, Brigadier W A N M Weerasinghe RSP USP and Ms. Dulmini Dahanayake, Second Secretary of the Sri Lanka Permanent Mission in Geneva.
4 September 2017
Sri Lanka Permanent Mission
Geneva