Colombo International Logistics Conference 2019: 01st – 02nd August 2019 Colombo, Sri Lanka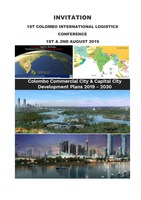 The prospective logistics and freight forwarding related companies and organizations in the Maritime sector, are invited to participate at the first ever Colombo International Logistics Conference scheduled to be held on 01st and 02nd August 2019 in Colombo, Sri Lanka.
Sri Lanka is known as a mega transhipment location in South Asia. The port of Colombo is the fastest growing port among major ports around the world, with the rank of 11th best connected port in the world. Situated in the middle of the Indian Ocean, connecting multiple continents and reaching out to billions of people, many have not realized that the island nation sitting next to the major market of India, is probably the best geographical position for logistics, distribution and storage of both bulk and containerized cargo. Sri Lanka has very flexible and an investor friendly environment through its commercial hub act opening the country for logistics FDI with least procedures for international investments. In addition, it has three major ocean ports being extensively developed for variety of purposes and connectivity. Colombo being the main container transhipment port is the only main South Asian port, closest to the East-West shipping route that is well equipped for the 21st Century mega container ships.
The first ever Colombo International Logistics Conference will be held to showcase an investment destination beyond 2020. The International Conference will have international speakers from JOC, HSBC, KPMG, UNCTAD, Singapore, China India, Pakistan, Bangladesh, Africa and Middle East representing different aspects of logistics. This first international logistics conference in Sri Lanka will be a launch event to promote products, new innovations in logistics solutions. They also can network and understand the Indian subcontinent market requirements and will be able to meet clients and logistics companies from the region to share solutions and ideas to improve the sector output in South Asia. The conference will be combined with port visits, free zone visits, visit to Colombo port city project and optional tours, as the country has been designated as the "top travel destination for 2019" by Lonely Planet. A large international gathering is expected in Colombo for this conference.
For further details of the Conference please visit www.cimc.lk and organizers of the event can be reached through following details:
CIMC Events, C/O Shippers' Academy Colombo (Pvt) Ltd
105, Hunupitiya Lake Road, Colombo 02, Sri Lanka.
Tel : +94 77 3820 703/+94 11 356 0844
Email : This email address is being protected from spambots. You need JavaScript enabled to view it.
Permanent Mission of Sri Lanka
Geneva
27 March 2019