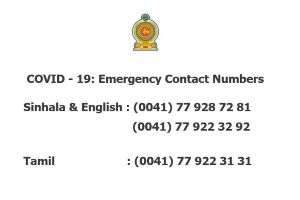 In the present circumstances of the rapid spread of the Corona virus in Switzerland, the Government of Switzerland has announced strict restrictions covering the entire country. Accordingly, strict regulations have been imposed to minimize public gatherings.
In order to minimize the exposure to the virus and to limit the spread of the virus among Sri Lankans, the Permanent Mission of Sri Lanka / Consulate General of Sri Lanka in Geneva, after taking into consideration the present situation, and in consultation with the Ministry of Foreign Relations of Sri Lanka, has decided to limit the consular services provided to Sri Lankans, commencing from 16.03.2020 until further notice.
Accordingly, from 16.03.2020 onwards and until further notice, the Permanent Mission of Sri Lanka in Geneva / Consulate General of Sri Lanka in Geneva has arranged to restrict services related only to the issuance of temporary/emergency travel documents, issuance and certification of documents relevant to deaths of Sri Lankans and any other emergency consular service, which is deemed necessary on a case by case basis. This will be done by appointment only.
In order to secure an early appointment and to obtain the above restricted consular services and related information, please call the following contact numbers.
Sinhala & English
(0041) 77 928 72 81
(0041) 77 922 32 92
Tamil
(0041) 77 922 31 31


Sri Lanka Consulate General in Geneva
14.03.2020