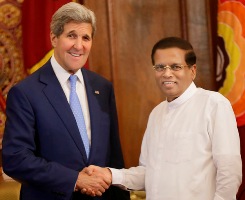 American Secretary of State John Kerry said the United States appreciates the firm steps taken by President Maithripala Sirisena to strength democracy and ensure transparency and accountability and promised the government all possible assistance to continue this process in the coming months and years. "We respect and value your work," he said when he paid a courtesy call on President Sirisena today at the Presidential Secretariat.
He said that the United States considers the close relations with Sri Lanka very important and proposed setting up of Annual Partnership Dialogue to ensure continuity of close partnership between the two countries in economic, trade, investment and other areas.
President Sirisena thanks the US for the support extended to Sri Lanka's development activities in the past and said the country and the people gratefully remember the generous assistance provided by the US during the tsunami calamity in 2004.
Secretary of State asked about Sri Lanka's relations with India and China , and President replied that Sri Lanka strictly follow a nonaligned foreign policy and said that his government would not allow the relations with one country to affect the relations with another country in any manner. He said India is the closest neighbor and there is a special relationship between India and Sri Lanka. China is a development partner and we have to consider that China has made heavy investments in Sri Lanka, he said.
"My government is determined to develop the country to raise the living standards of the people and we need the assistance of all countries, especially the developed countries for this endeavour, President said.
President briefed Mr Kerry about the steps taken for reconciliation and development in the conflict affected areas. We have set up a Presidential Task Force to speed up the reconciliation process and a Peace Secretariat has been instituted to ensure peace and harmony between different communities and those who follow different faiths.
Mr Kerry said he decided to visit Sri Lanka as a mark of endorsement of the policies undertaken by the new government and he would use the same reasons to try and convince President Obama to visit Sri Lanka, if possible next year before he completes his term.
Pesident Sirisena requested the US top look into the possibility of providing training facilities to officers of the Bribery and Corruption Commission, Police and Criminal Investigation Department officials probing corruption and frauds. Readily agreeing to this, Mr Kerry instructed Assistant Secretary of State Nisha Biswal to look into the issue and take follow up action. The President also emphasized the need to increase intake of Sri Lankan soldiers to the UN Peace Keeping Force and sought US support.
courtesy: www.priu.gov.lk