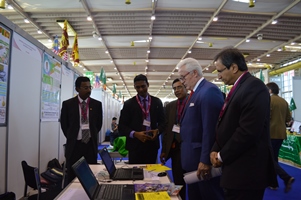 A team comprising 7 Sri Lankan inventors led by Dr. Mahesh Edirisinghe, Commissioner of Sri Lanka Inventors Commission (SLIC) participated in the 45th edition of the International Exhibition of Inventions held at Palexpo, Geneva from 29th March to 02nd April 2017. All Sri Lankan inventors who showcased their inventions at this 45th edition were able to secure medals including three Gold Medals (with special recognition from Jury for two inventions and a special recognition from World Women Inventors Association for one invention), two Silver Medals and two Bronze Medals.
The inventors were sponsored by Sri Lanka Inventors Commission (SLIC), having been selected from among the Presidential Award Winners and Sahasak Nimavum Award Winners.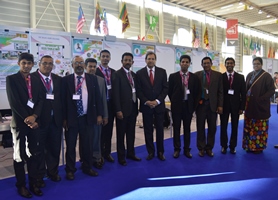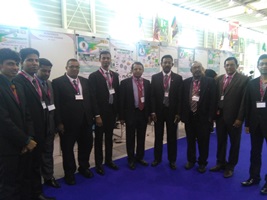 Attending the International Exhibition, Ambassador Ravinatha Aryasinha, Permanent Representative of Sri Lanka to the UN in Geneva and Ambassador R.D.S. Kumararatne, Permanent Representative of Sri Lanka to the World Trade Organization (WTO) congratulated the Sri Lankan inventors for the well-deserved recognition given to their inventions.
The International Inventors Exhibition is regarded as the world's most important event exclusively dedicated to inventions, and a unique marketplace for those who lookout for new products. The Exhibition is now increasingly seen as a top-level technological showcase. This year's exhibition which was open for public from 29th March to 02nd April 2017 has attracted more than 30,000 visitors. 725 exhibitors form 40 different countries have displayed more than thousand inventions. 80% of the inventors represent businesses, universities or research institutions, with the other 20% being independent. This year's event has been marked by a very high proportion of inventions to do with health, medicine, the environment and security. The exhibitors has reported that they had done excellent business and established some very useful contacts during the event.
Details of Sri Lankan inventors take part at this year's exhibition and their achievements are as follows:
| | | |
| --- | --- | --- |
| Inventors Name | Name of the Invention | Achievement |
| Dr. M.P.M. Thilanka Ratnapala | Laparoscopic Knot Applicator | Gold Medal with Jury Appreciation |
| Dr. R.M.H.M. Anupa Indika Herath | Video Laryngoscope | Gold Medal with Jury Appreciation |
| Mr. Asiri Dilhan De Silva | Pest Repellent Eco Table Mat | Gold Medal with special recognition from World Women Inventors Association |
| Mr. Nalin Darshana Karunasinghe | E Pro – 1000 | Silver Medal |
| Mr. M.A. Prince Chandrasena | Pt Braille Computer Key | Silver Medal |
| Mr. M.A. Dasman | Hybrid Electronic Ignition Tester | Bronze Medal |
| Mr. D. Aruna De Silva | Vegetable Safety Machine | Bronze Medal |
Permanent Mission of Sri Lanka
Geneva
3 April 2017