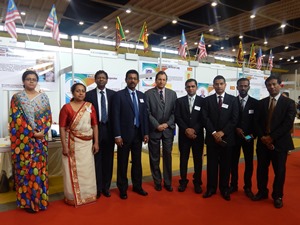 A team of 7 inventors led by Dr. Mahesh Edirisinghe, Commissioner of Sri Lanka Inventors Commission (SLIC) participated at the recently concluded 44th International Inventors Exhibition held from 13-17 April 2016 in Geneva. They have secured 2 Gold Medals with a special recognition from jury for one invention, 3 Silver Medals and 2 Bronze Medals.
Two inventors were fully sponsored by Sri Lanka Inventors Commission (SLIC), having been selected from among the Presidential Award Winners and Sahasak Nimavum Award winners while the other inventors have joined the Sri Lankan delegation on their own expenses.
The International Inventors Exhibition is known as the world's largest market-place for inventions. At this unique annual event, there were more than 1'000 new inventions and products, 752 exhibitors from 48 countries, 76% companies and universities, 24% private inventors and researchers, 59'000 visitors from all 5 continents. An International Jury of 85 experts awarded many highly regarded prizes to the best inventions.

The following Sri Lankan inventors won awards at the International Inventors Exhibition held in 2016:
Inventors Name

Name of the Invention

Mr. N.C. Lokuhettige

Automatic Artificial Leg

Gold Medal

Mr. R.M.S.B. Hunukumbura

Mechanical Eakle Separator

Gold Medal

Prof. K.K.Y.W. Perera

Smart Ceiling Fan Controller

Silver Medal

Mr. K.K.N.P. Kannangara (Co-invention)

Inhalation Capsule with new dry
powder composition

Silver Medal

Mr. Manoj S. Hettiarachchi (Co-partner)

- do -

Ms. K.D.S. Anusha Wijayarathna

Special Corn Flour Mixture

Silver Medal

Dr. S.M.R. Bandara

Device especially for suppression of Neuropsychiatry
& Respiratory Diseases

Bronze Medal

Ms. D.G.A.I. Jayarathna

Device with Catheter Tube and External Public
Bladder with Hanger

Bronze Medal
Permanent Mission of Sri Lanka
Geneva
18 April 2016