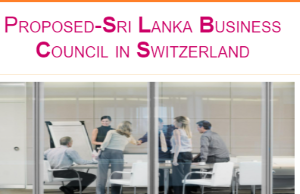 Dear Sir/Madam,
The Sri Lanka Consulate General in Switzerland and the Embassy of Sri Lanka in Berlin concurrently accredited to Switzerland are pleased to announce our plans to establish a Sri Lanka Business Council in Switzerland (SLBCS).
The proposed SLBCS will be a non-profit organization that will bring together Sri Lankan & Swiss businesses and individuals in Switzerland to promote trade and investment between the two countries. The Council will also provide a platform for members to network, share information, and advocate for Sri Lanka's business interests in Switzerland.
We are eager to hear from you about your interest and views of the proposed SLBCS. If you would like to be involved in the establishment of the Council, please click on the link below or scan the QR code in the flyer to complete a short survey.
https://forms.gle/Y1oSzmxzV7wEuA8X8
Your feedback will help us to determine the scope and structure of the SLBCS. We will also use your feedback to identify potential members and partners for the Council.
We would be grateful if you could share this email and flyer with other interested parties.
Thank you for your time and consideration.