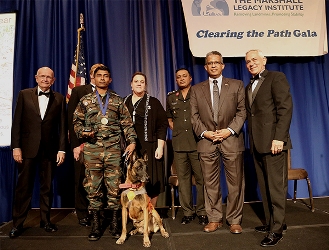 At the Annual "Clearing the Path" Gala 2016 organized by The Marshall Legacy Institute (MLI) of Washington D.C., Mine Detection Dog (MDD) Alvin and its handler Lance Corporal Nawarathne of the Sri Lanka Army Engineers Humanitarian Demining Unit, were selected as the MDD team of the year.
The Marshall Legacy Institute, an organization dedicated to "removing landmines and promoting stability" has been assisting the Sri Lanka Army Humanitarian Demining Unit in their humanitarian effort to clear landmines and explosive devices from affected regions in Sri Lanka. Over the years, MLI has provided 26 Mine Detection Dogs and training with the assistance of private donors and the U.S. Department of State.

At the gala event to celebrate the work of demining canines worldwide and to seek contributions for this purpose, the Sri Lankan Mine Detection Team led by Brigadier Amith Senevirathna, Brigade Commander of Sri Lanka Army Engineers Humanitarian Demining Unit, together with the mine detection dog Alvin and its handler were recognized for their contribution to the successful demining efforts in Sri Lanka.

Ambassador Susan Rice, National Security Advisor of the United States, was the keynote speaker at this event, which was graced, among other dignitaries, by Senator Mike Enzi and General Gordon Russell Sullivan, manifesting commitment of the United States for mine clearing efforts.
Introducing the Sri Lankan Mine Detection and Removal Team at this event, Ambassador Prasad Kariyawasam stated that "my country was heavily contaminated with mines and other improvised explosive devices due to nearly three decades of armed conflict between government forces and the Liberation Tigers of Tamil Eelam, betterknownas theLTTE.This terrible conflict ended in 2009 with the comprehensive defeat of the LTTE, which has been identified as a Foreign Terrorist Organization by the United States. But uncleared mines and unexploded explosives have posed a formidable challenge to the well-being of the people, especially in the north of Sri Lanka."

He further stated that "Sri Lanka is now happy to announce that seven years since the end of the conflict, 92% of the mine infected land has been cleared and declared suitable for human habitation and use. This, compared with other mine and unexploded ordinance infected countries in the world, is a major achievement in terms of the speed of clearance of unexploded explosives. A substantial part of the credit for this success must go to the MDD teams working in Sri Lanka."Full Statement is attached.
Read more: www.mfa.gov.lk
Embassy of Sri Lanka
Washington D.C.
October 27, 2016