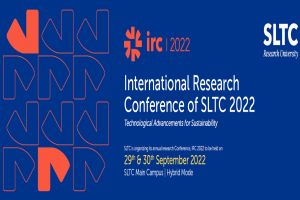 SLTC Research University is organizing its annual research Conference IRC 2022 to be held on 29th and 30th September 2022 at the SLTC Padukka Premises on Hybrid mode.
IRC2022 invites the submission of extended abstracts by undergraduates, graduates, postgraduates, support staff, and academics from local and foreign universities, research organizations, and elsewhere in research areas.
Authors are invited to submit their extended abstracts through the Easy Chair platform via https://easychair.org/account/signin?l=ZloN4v8R6YCzOwIDiWwF5D . The IRC2022 will host pre-event workshops, exhibitions, seminars, and conferences on specific themes.
More details can be obtained from https://irc2022.sltc.ac.lk/.