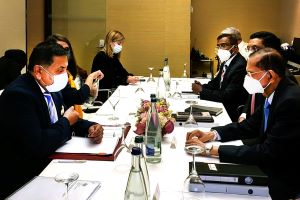 Minister of Foreign Affairs Prof. G.L. Peiris and the Sri Lanka delegation had high level bilateral meetings on 28 February, 2022, with the United Kingdom, the Commonwealth Secretariat, the Organization of Islamic Cooperation (OIC) and the World Intellectual Property Organization (WIPO), on the side lines of the High-Level Segment of the 49th session of the Human Rights Council which commenced 28 February, 2022.
During his meeting with Minister of State of the United Kingdom for South and Central Asia, UN and the Commonwealth Lord Tariq Ahmed, the Minister of Foreign Affairs discussed bilateral cooperation, and progress achieved by Sri Lanka in advancing reconciliation as well as the Government's comprehensive efforts at fostering unity and harmony. The Minister emphasized the need for understanding and recognition of Sri Lanka's efforts.
At the Meeting with Secretary General of the Commonwealth Baroness Patricia Scotland, the Minister discussed avenues of furthering Sri Lanka's cooperation with the Commonwealth including on the economic front, tourism, and opportunities for youth such as vocational training. The Commonwealth Secretary General commended Sri Lanka's lead role on the Blue Economy and requested enhanced engagement in this area.
The Minister and the delegation also had a constructive meeting with Permanent Observer of the Organization of Islamic Cooperation in Geneva Ambassador Nassima Baghli, where Sri Lanka's longstanding friendly relations with members of the OIC, the multi-ethnic and multi-religious nature of the Sri Lankan society, the significant contribution from its Muslim community and matters relating to advancing their interests, were discussed.
The Minister also had a productive meeting with Director General of WIPO Daren Tang and exchanged ideas on further advancing technical cooperation in intellectual property in the areas of policy development, digitization, geographical indications, and empowerment of youth in the use of IP for research and development.
The Minister was accompanied by Minister of Justice Ali Sabry, State Minister of Production, Supply and Regulation of Pharmaceuticals Channa Jayasumana, Secretary to the Ministry of Foreign Affairs Admiral Prof. Jayanath Colombage, Additional Solicitor General Nerin Pulle,and Permanent Representative of Sri Lanka to the UN in Geneva C.A. Chandraprema.


Ministry of Foreign Affairs
Colombo
02 March, 2022

View PDF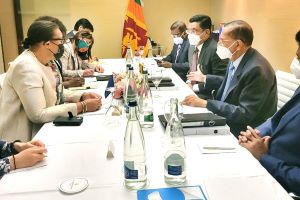 Minister of Foreign Affairs and the Secretary General of the Commonwealth hold discussions on the sidelines of the 49th session of the HRC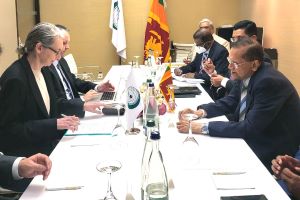 Permanent Observer of the Organization of Islamic Cooperation in Geneva meets with Foreign Minister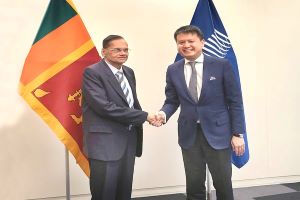 Director General of WIPO and the Sri Lanka delegation led by the Foreign Minister discuss cooperation on intellectual property