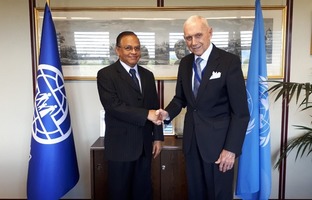 Permanent Representative of Sri Lanka to the United Nations in Geneva, Ambassador A.L.A Azeez, called on the Director General of the International Organisation for Migration (IOM) Ambassador William Lacy Swing. The IOM Chief commended Sri Lanka's prominent role in promoting the Agenda on Migration Health, including by co-hosting the 2nd Global Consultation on Migration Health in Colombo in February 2017. The DG appreciated the statement delivered on behalf of the Hon. Minister of Health, at the recently held International Dialogue on Migration (IDM) in New York, which acknowledged the significant role that IOM was playing in advancing the SDGs.
Highlighting IOM's enhanced collaboration with the Government of Sri Lanka, with the undertaking of varied programmes such as post-arrival migration health, border management strategy, and support for Sri Lanka migrants abroad, Ambassador Lacy expressed satisfaction at the current level of engagement which he referred to as having "grown exponentially in the past few years". He further complemented Sri Lanka's Chairmanship of the Abu Dhabi Dialogue (ADD) and its long held leadership to the Colombo Process (CP), calling it "one of the most vibrant Regional Consultative Processes (RCP) of IOM".
Ambassador Azeez thanked the Director General for the constructive cooperation that IOM extended to Sri Lanka through its Country Office, which remained pro-active working with stakeholders at all levels. He apprised the DG of the ongoing positive developments in Sri Lanka including peacebuilding and reconciliation as well as economic development. He also explained the commitment of the Government of Sri Lanka to advancing socio-economic development through sustainable Blue Green Economy, as envisaged in Sri Lanka's Vision 2025, and elaborated specific measures taken such as the National Human Rights Action Plan 2016 - 2021, which brought a specific focus on the rights of migrants, particularly the welfare of their families.
Recalling that Sri Lanka and the IOM had engaged through specific projects even before Sri Lanka became a member of the IOM, Ambassador Azeez reassured the DG of the continued partnership and active participation of Sri Lanka in activities of IOM in the future as well.
Permanent Mission of Sri Lanka
Geneva
22 May 2018