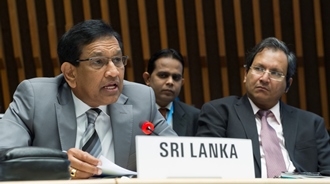 Delivering a keynote addressed at the World Health Organisation (WHO) meeting on 'Rehabilitation 2030: A Call for Action', in Geneva on Monday (6th February) Minister of Health, Nutrition and Indigenous Medicine Dr Rajitha Senaratne said that the Government of Sri Lanka has identified Rehabilitative Health Services as the third pillar of Sri Lanka's health care delivery system, in addition to the earlier focus on curative and preventive health services. Minister Senaratne was invited by the WHO, together with Minister of Health of Botswana and Deputy Minister of Health of Lao People's Democratic Republic to deliver the keynote addresses at the meeting, and share the experience of their country efforts in rehabilitation services.
He also said that Sri Lanka is focusing on use of information technology in delivering health services, and the electronic indoor Morbidity Mortality Reporting system (eIMMR) which has already been deployed in the health care network of the country allows real time information gathering, assisting with planning and distribution of health service delivery, including the rehabilitation services. Minister Senaratne also noted that to facilitate the implementation and sustenance of health information systems, the Government has recognized the 'Health Informatics' as Board certifiable specialty in medicine.
Drawing attention to the common challenge faced by many of the developing countries on the shortage of suitably trained staff to exercise rehabilitation health services, Minister Senaratne said the Ministry of Health of Sri Lanka jointly with the Ministry of Higher Education has taken measures for training programs at various levels, including at graduate and post –graduate levels to address the shortage, and noted that the proposed School for Occupational Therapist at Rheumatology and Rehabilitation Hospital would be a useful addition to this end.
The Meeting which was held from 6-7 February 2017 at the WHO Headquarters in Geneva was opened by Dr. Oleg Chestnov the Assistant Director General of the WHO for Noncommunicable Diseases and Mental Health , and attended by representatives from Governments, UN agencies, organizations representing rehabilitation service user groups and rehabilitation providers and relevant nongovernmental organizations. The two day deliberations of the meeting focused on raising awareness on the substantial
and ever – increasing unmet need for rehabilitation, shared experiences, and called for coordinated and sustained global action towards strengthening rehabilitation services in health systems. The participants of the meeting also acknowledged and committed to 10 areas of action in rehabilitation through the 'Call for Action' paper, aiming to strengthen rehabilitation up to year 2030.
Sri Lanka's Permanent Representative to the United Nations in Geneva Ambassador Ravinatha Aryasinha and Second Secretary Ms. Mafusa Lafir; Dr. Sujatha Senaratne; Dr. S. Subasinghe, Adviser to Hon. Minister; Dr. D. Ranjith Dissanayake, Medical officer in charge, Katugahahena Hospital and Dr. W.D.C.U. Dias, Deputy Director, Rheumatology and Rehabilitation Hospital, Ragama were associated with the Minister at the meeting.
Permanent Mission of Sri Lanka
Geneva
8th February 2017