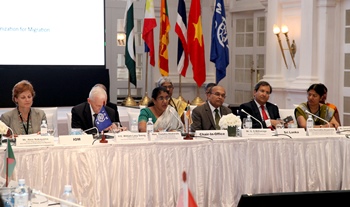 The Fifth Ministerial Consultations of the Colombo Process (CP) has decided to explore cooperation in the operationalization of the migration related goals in the SDGs, work towards promoting the health of migrant workers throughout the migration cycle, to focus on consular support for migrant workers and to promote equality for women migrant workers.
These new thematic priorities for the group were elaborated in the 'Colombo Process Ministerial Declaration' adopted in Colombo on 25th August 2016, under the Chairmanship of Hon. Thalatha Athukorale, Minister of Foreign Employment and Chair in Office of the Colombo Process. Mr. G.S. Withanage, Secretary/Ministry of Foreign Employment, Ambassador Ravinatha Aryasinha, Permanent Representative of Sri Lanka to the UN, Mrs. Samantha Jayasuriya, Deputy Permanent Representative and Ambassador William Lacy Swing, Director General/IOM and Ms. Nicoletta Giordano, Head/International Partnership Division of the IOM were associated with Minister Athukorale in the adoption .
The meeting also reviewed the ongoing work of the group in the five thematic areas – qualification recognition, ethical recruitment, pre-departure orientation, Promoting Cheaper, Faster & Safer Transfer of Remittances, and track the labour market trends, and directed the Senior Officials and Geneva-based CP Missions to expand cooperation in relation to particular aspects on these issues. They also commended the work of the Colombo Process Technical Support Unit (CPTSU) and the Thematic Area Working Groups (TAWGs). The Minister has also directed that continued engagement take place with the Abu Dhabi Dialogue (ADD), the European Union (EU), the SAARC and ASEAN. They approved the revision of the Colombo Process Operating Modalities including a self-funding mechanism, to consolidate the rules and structure of the Colombo Process to ensure its sustainability, and to provide guidelines on the transfer of the Chairmanship to ensure predictability to the regular meetings and engagements by the CP Member States. They also welcomed the admission of Cambodia as the 12th Member of the Colombo Process.
Permanent Mission of Sri Lanka