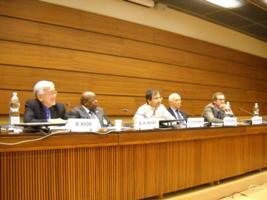 Permanent Representative of Sri Lanka to the UN in Geneva and Chair of the Personal Representatives of G-15 Ambassador Ravinatha Aryasinha, recalling the active role played by Dr. Gamini Corea in reinforcing unity among nations of the Global South and their position in multilateral negotiations, said Dr. Corea's "legacy and intellectual prophecy continues to inspire international institutions such as the South Centre, as well as cross regional groups of nations such as G-15, to continue to strive and work tirelessly for a more equitable and just world order".

Ambassador Aryasinha made these observations when he addressed a half-day special Tribute seminar, organized by the South Centre with support from the Permanent Mission of Sri Lanka, in commemoration of the life and intellectual legacy of Dr. Gamani Corea (Former UNCTAD Secretary-General and South Centre Board Chair), was held on 20 March 2014 at the United Nations in Geneva.


The special tribute seminar was aimed to pay respect and tribute to this eminent South thinker and to also debate the intellectual thinking transcending beyond Gamani Corea's legacy, as many of his ideas are a timely element for debates in search for alternatives to the current developmental challenges the Global South is facing today.



Permanent Mission of Sri Lanka
Geneva
20 March 2014