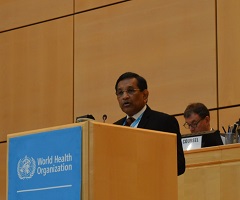 Minister of Health, Nutrition and Indigenous Medicine Dr. Rajitha Senaratne addressing the 70th World Health Assembly (WHA) meeting in Geneva on Tuesday (23 May 2017) said that the "Sri Lanka has achieved much progress in health care delivery due to cost-efficient use of resources and the coordinated use of its well ingrained primary, secondary and tertiary health care facilities".
The Minister who is leading the Sri Lanka delegation to the ongoing 70th World Health Assembly also updated the Assembly on the progressive action taken by the Government in combatting Noncommunicable diseases (NCDs), such as introducing 80% pictorial warning on tobacco, increase of tobacco tax to 90%, introduction of a 'traffic light labelling system' to control sugar in fizzy drinks. On communicable diseases, he highlighted on Sri Lanka's achievement of gaining WHO certification of Malaria elimination. He, however noted the recent epidemic challenges faced by the country on Dengue and H1N1 and called for increased partnership in addressing those challenges.
Earlier this week (21st May), Minister Senaratne also addressed the Commonwealth Health Ministers Meeting outlining Sri Lanka's successes in the health sector which were commended by the Health Ministers present at the meeting. The Commonwealth Secretary General, Patricia Scotland praised Sri Lanka on its higher quality outcome achieved at a minimum cost, and indicated that this is a model that could be replicated across the Commonwealth. She made these remarks during a bilateral meeting with Minister Senaratne, and requested Sri Lanka to consider leading within the Commonwealth on digital –health.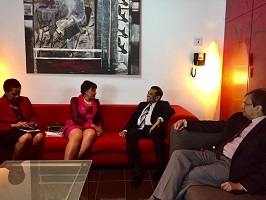 To celebrate the success of WHO certification of elimination of Malaria, Sri Lanka together with the Maldives and the Regional Office of the WHO in New Delhi organized a special event on 22nd May on the sidelines of the 70th WHA in Geneva which was graced by Dr. Margeret Chan, the Director General of the WHO.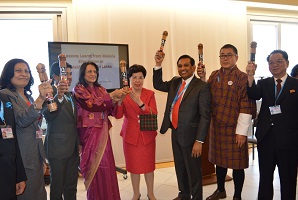 The Minister also met with the World Bank Representatives to discuss potential cooperation in the areas of establishing additional Accident and Emergency Care Centers, design and implement the 'family physician' concept, and to expand the currently launched 'Lifestyle Health Centers' throughout the country.
Sri Lanka's Permanent Representative to the United Nations in Geneva Ambassador Ravinatha Aryasinha, Dr. P. Sathyalingam -Provincial Minister of Health, Nutrition and Indigenous Medicine of Northern Province, and other senior officials of the Ministry of Health, Nutrition and Indigenous Medicine and the staff of the Permanent Mission of Sri Lanka in Geneva were associated with the Minister during these meetings.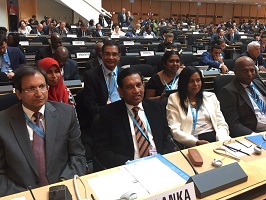 Enclosed: Full text of the Statement by Hon. Minister at the 70th WHA
Permanent Mission of Sri Lanka
Geneva
24th May 2017