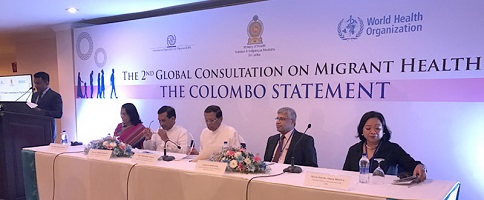 Participants from a cross –regional group of countries meeting in Colombo at the 2nd Global Consultation on Migrant Health, adopted the 'Colombo Statement', the first ever stand-alone political statement on the subject of Migrant Health, during the High Level meeting of the Consultation held on 23rd February 2017, under the patronage of H.E. the President Maitrhipala Sirisena, and Chaired by Health and Indigenous Medicine Minister Rajitha Senaratne The statement adopted, was negotiated in Geneva under the Chairmanship of Sri Lanka's Permanent Representative to the UN Ambassador Ravinatha Aryasinha with the representatives of the Permanents Missions in Geneva, following an the initial draft jointly developed by the IOM, WHO and the Government of Sri Lanka.
Through the Colombo Statement, the cross regional group of countries have agreed to mainstream migrant health into key national, regional and international agendas, promote international solidarity for equitable migrant health policies and in this regard have taken note of the technical discussions on the elements of a Progress Monitoring Framework', the Research agenda and the Actionable Policy Objectives.
It is envisaged that the Colombo Statement and the other technical outcomes of the 2nd Global Consultation on Migrant Health would be a useful inputs into the Global Compact on Safe, Orderly and Regular Migration, to ensure that migrant health is dully reflected in the Global Compact to be adopted by the General Assembly in 2018. The momentum generated by the Global Consultation will also be carried forward to the World Health Assembly – WHO's annual meeting – in May 2017, where 194 countries will deliberate on priority actions to protect migrants' right to health, and its process for development of the WHO global action plan on health of refugees and migrants to be adopted in 2019.
In response to the renewed international attention to the topic of Migration and Health, H.E. Maithripala Sirisena, the President of Sri Lanka offered to host the 2nd Global Consultation on Migrant Health jointly with the IOM and the WHO from 21-23 February 2017 in Colombo Sri Lanka. The Consultation provided a unique platform for the practitioners and the policy makers to identify the challenges and to make political commitments to address those challenges.
More than 100 participants representing Governments, international organisations as well as civil society and technical agencies participated at the 3 day session of the 2nd Global Consultation on Migrant Health, deliberating on how to advance migrant health agenda.
Translation of the speech made by His Excellency the President Maithripala Sirisena
IOM Director-General, William Lacy Swing, addressed the participants of the 2nd Global Consultation on Migrant Health in Colombo, Sri Lanka on 21 February 2017
Permanent Mission of Sri Lanka
Geneva
25th February 2017