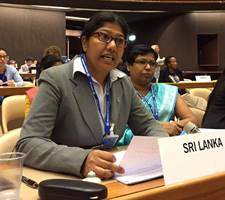 Sri Lanka's Deputy Permanent Representative in Geneva Mrs. Samantha Jayasuriya said that 'as a country with a sizeable number of its citizens working abroad, the Government of Sri Lanka places migration high in its national development policy' and have made considered efforts to improve its national labour migration policies and governance, at national, bilateral, regional as well as international levels.
Mrs. Jayasuriya made these remarks on 5th June 2017, during the deliberations on the 'Committee for Labour Migration: General Discussion on Labour Migration Governance and fair recruitment', which is taking place as part of the ongoing 106th Session of the International Labour Conference from 5th – 16th June 2017 in Geneva.
Highlighting the important roles played by Regional Consultative Processes (RCPs) in adopting common standards and practices to harmonise labour migration, and promote regular migration, Mrs. Jayasuriya explained the concrete collective achievements made under the Colombo Process (CP), which Sri Lanka Chaired from 2013 – 2017 February, and the Abu Dhabi Dialogue (ADD),currently Chaired by Sri Lanka.

6th June 2017
Permanent Mission of Sri Lanka Geneva