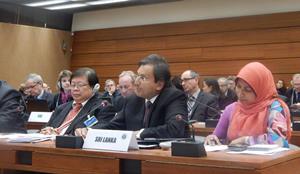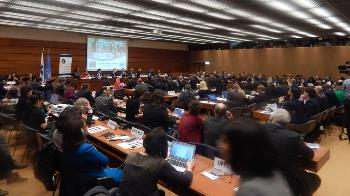 Sri Lanka's Permanent Representative Ambassador Ravinatha Aryasinha said on Wednesday (2 March 2016) that the Cabinet of Ministers earlier the same morning had approved that Sri Lanka accedes to the 'Convention on the Prohibition of the use, stockpiling, production and Transfer of Anti-Personnel Mines and on Their Destructions', which is commonly known as the 'Ottawa Convention'.
Ambassador Aryasinha made this announcement when he addressed the First International Pledging Conference for the Implementation of the Anti – Personnel Mine Ban Convention on the theme "Mine Free World by 2025: The Last Stretch", held yesterday (2 March 2016) at the Palais des Nation in Geneva. The pledging conference was organised by the Office of the UN in Geneva and the Government of Chile marking seventeen years of success and calling on all parties to redouble their efforts to meet the humanitarian goals set by the Convention by 2025.
The Ottawa Convention adopted on Sept. 18, 1997 came into force on March 1, 1999. This landmark humanitarian and disarmament Convention seeks to end the suffering caused by landmines.
By joining the convention, each State Party undertakes to destroy all stockpiled anti-personnel mines that it owns or that are under its jurisdiction or control, not later than four years and to clear landmines within 10 years of becoming a State Party. Providing assistance to mine victims and awareness raising also remains important aspects in the Convention.
According to the latest figures, to date, 162 States have joined the convention and have collectively destroyed a total of over 48 million stockpiled landmines to date.
Permanent Mission of Sri Lanka
Geneva
3 March 2016