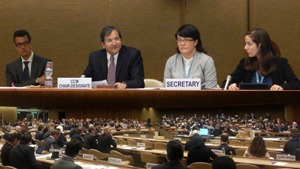 Sri Lanka's Ambassador to the UN in Geneva Ravinatha Aryasinha, in his capacity as the Chair – Designate of the Convention on Certain Conventional Weapons (CCW) for 2015, opened the week long 'Meeting of Experts on Lethal Autonomous Weapon Systems (LAWS)', held within the framework of the CCW on Monday (13th April) at the Palais des Nations in Geneva. The Convention, which 120 States are party to, seeks to ban or restrict the use of specific types of weapons that are considered to cause unnecessary or unjustifiable suffering to combatants or to affect civilians indiscriminately.


In his opening remarks, Ambassador Aryasinha observed that LAWS are rightly being described as the next revolution in military affairs, and that development, production, and use of fully autonomous weapons raise questions on a range of issues that require serious consideration. He said the strength of the CCW framework, which allows for both discussing and negotiating on emerging challenges in the areas of conventional weapons, provides a flexible framework to facilitate productive deliberations on LAWS by the State parties to the CCW and other stakeholders.

The 'Meeting of Experts' held from 13 – 17 April 2015, is being Chaired by Ambassador Michael Biontino of Germany, and is being held in accordance with the mandate the High Contracting Parties to the CCW agreed at the 2014 Meeting of States Parties. It is also a follow–up to the first informal Meeting of Experts on LAWS, held in May 2014. The country delegates, NGO representatives, as well as Technical Experts are expected to further their deliberations on different aspects of LAWS, including Characteristics of LAWS; Technical Issues; Possible challenges to the international humanitarian law; Human rights and ethical issues; General security issues, as well as on the way ahead.

The report of the Meeting of Experts will be taken up for consideration by the High Contracting Parties to the CCW at the Meeting of States Parties in November 2015, which will be Chaired by Sri Lanka.


Permanent Mission of Sri Lanka
Geneva
14 April 2015