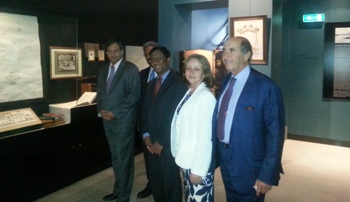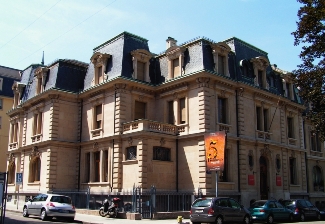 Sri Lanka's Permanent Representative of Sri Lanka to the United Nations in Geneva Ambassador Ravinatha Aryasinha has commended the historical long-standing economic relations between Sri Lanka and Switzerland and the highly valued contribution made towards the Sri Lankan economy by A. Baur & Company, the oldest Swiss Investment in Sri Lanka.
He made these observations when at the invitation extended by the Baur's Foundation, he visited the Baur Foundation Museum of Far Eastern Art on 07 May 2015. The Baur Foundation Museum of Far Eastern Art brings together a private collection of Chinese porcelain, jade and Japanese art by Mr. Alfred Baur, the founder of A. Baur Company. It also depicts his time in Sri Lanka. The Museum stands out as one of the most significant private collections in Europe.


During the visit the Ambassador who was accompanied by Counsellor Nalinda Wijerathna met with Mr. Olivier Dunant, the President of the Council of Alfred & Eugenie Baur Foundation and the members of the Council. The Ambassador extended the fullest cooperation of the Sri Lanka Mission in Geneva towards the future activities of the Foundation.

A. Baur & Company was established in 1897 in Colombo by its founder Mr. Alfred Baur of Switzerland. Today the company contributes to the Sri Lankan economy by operating in various segments including import, export, distribution, manufacturing and agency business in agriculture, healthcare, industrial raw materials, airlines, travel, optics, machinery, engineering. The Company has provided employment for about 800 people in Sri Lanka.

Permanent Mission of Sri Lanka
Geneva

7 May 2015